Jill Bartoli (D) vs. Stephen Bloom (R)
Wednesday, October 22, 2014 – 7 p.m.
NEW LOCATION:  Anita Tuvin Schlechter Auditorium

The Republican and Democratic candidates running in the general November election for the 199th seat in the Pennsylvania state legislature will debate the central issues confronting local voters and answer questions from the audience. The event will be moderated by Michelle Crowley, president and CEO of the Greater Carlisle Area Chamber of Commerce.
This event is sponsored by The Clarke Forum for Contemporary Issues, the Greater Carlisle Area Chamber of Commerce, American Association of University Women (AAUW), the League of Women Voters,  YWCA Carlisle and The Sentinel.
Biographies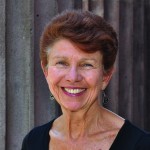 Jill Bartoli (provided by Bartoli)
I have lived in Cumberland County for my entire life, growing up in a rural area near Cumberland Valley High School, which was built when I was in third grade.  So my first three years of school were in a one room country school house, with a pot-bellied stove and an outhouse, that had grades one to eight.
Growing up, I was a member of the 4-H Baby Lamb Club and 4-H Horse and Pony Club, and I took ballet lessons from Marcia Dale Weary when she Read more