Anita Tuvin Schlechter Auditorium, 7 p.m.
The President's Award and Celebration
Lives of Leadership: A Conversation with David Petraeus P'04 and Holly Petraeus '74, P'04
The Dickinson College President's Award is a symbol of excellence and distinction. The award is bestowed by President John E. Jones III '77, P'11, to individuals who lead lives of service, forge new paths in their respective fields, contribute meaningfully to the betterment of the world and inspire future generations. The inaugural recipients of the President's Award are David Petraeus P'04 and Holly Petraeus '74, P'04, in recognition of their exemplary lives of service, both to their nation and to their community. This conversation will be facilitated by President Jones.
This program is sponsored by the Clarke Forum for Contemporary Issues and the Office of the President. It is also part of the Clarke Forum's Leadership in an Age of Uncertainty Series.
Biographies (provided by the speakers)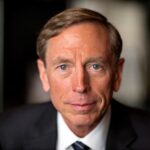 General David Petraeus, US Army (Ret.) P'04 is one of the leading battlefield commanders and strategists of our time.  He served over 37 years in the US military culminating his career with six consecutive commands as a general officer, five of which were in combat, including command of Read more