Mills College
The 1001 Black Men Online Sketchbook and the Art of Social Justice
Wednesday, March 7, 2018
Anita Tuvin Schlechter Auditorium, 7 p.m.
Mance created 1001 Black Men: An Online Sketchbook as a reaction against the controlling images that have limited and defined media representations of Black men. Mance will use a slideshow of images from her series as the basis of a wide ranging discussion of art, Black maleness and gender performance, and representation.
This program is sponsored by the Clarke Forum for Contemporary Issues and co-sponsored by the Women's & Gender Resource Center; the Popel Shaw Center for Race & Ethnicity; and the Departments of Africana Studies; American Studies; English; French; and Women's, Gender & Sexuality Studies.
Biography (provided by the speaker)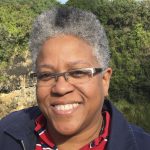 Ajuan Mance is a professor of English at Mills College in Oakland, California. She holds degrees from Brown University and the University of Michigan, Ann Arbor. A lifelong artist, she works in acrylic on paper and canvas, ink on paper and, for the 1001 Black Men project, ink on paper and digital collage. Ajuan has participated in solo and group exhibitions throughout the San Francisco Bay Area as well as at the University of Read more