Assistant Professor of Medical Ethics & Health Policy, University of Pennsylvania
Disability Studies and Contemporary Bioethics for HIV-Positive Persons
Wednesday, March 23, 2016
Stern Center, Great Room, 7 p.m.
In this talk, Wahlert will discuss the prominence of HIV-positive persons in the history of medicine, paying special attention to their impact by the Americans with Disabilities Act of 1990.
This event is sponsored by the Clarke Forum for Contemporary Issues and co-sponsored by the departments of women's and gender studies, American studies, biology and the health studies certificate program. It is also part of the Clarke Forum's semester theme, Disability.
Biography (provided by the speaker)
An historian of medicine and literary/cinema/queer studies scholar by training, Dr. Lance Wahlert is assistant professor of medical ethics & health policy and director of the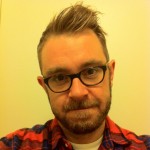 Master of Bioethics (MBE) program in the Perelman School of Medicine at the University of Pennsylvania.   He also holds affiliated standing-faculty appointments in Penn's departments of: Gender, Sexuality, and Women's Studies; English; Cinema Studies; and, the History and Sociology of Science.
Dr. Wahlert's scholarly interests include narrative medicine, clinical ethics, the history of LGBTQ medicine, disability theory, cinema studies, and Irish and Norwegian literature.  Accordingly, he has held residential fellowships at the Welcome Centre for the History of Medicine (London), Trinity College Dublin, Queen's University Belfast, the University of Oslo, King's College London, the British Film Institute, and the Max Planck Institute for the History of Science.  In the fall of 2013, he served as visiting assistant professor of Clinical Ethics at the Cleveland Clinic, serving as a specialist in medical humanities and LGBT health.
Having been funded by the National Institutes of Health and the Pew Foundation, Dr. Wahlert's scholarship has been featured in publications including Bioethics, the American Journal of Bioethics, the Cambridge Quarterly of Health Care Ethics, the Journal of the American Board of Family Medicine, and The Hastings Center Report.  He has also served as guest editor of three special issues of peer-reviewed, academic journals dedicated to the intersections of bioethics, queer theory, disability studies, and the history of medicine: "Bioethics, Sexuality, and Gender Identity" for the Journal of Bioethical Inquiry (2012); "Queer in the Clinic" for the Journal of Medical Humanities (2013); and "Mapping Queer Bioethics: Space, Place, and Locality" for the Journal of Homosexuality (2015).
Related Links
http://www.queerbioethics.org/
http://medicalethics.med.upenn.edu/people/faculty/lance-wahlert
Video of the Lecture
Interview with Lance Wahlert and Julia Mercer '18