Anita Tuvin Schlecther Auditorium (ATS), 7 p.m.
Presidential Dialogues: Lessons in Leadership
John E. Jones III '77 P'11, interim president, Dickinson College
William G. Durden '71,  president emeritus, Dickinson College
Dickinson produces leaders who impact their communities and effect positive change. Each one of those leaders has a story to tell and valuable lessons to share. This semester, interim President John E. Jones III '77, P'11, is kicking off Presidential Dialogues, a discussion series that will highlight and share these distinctive stories and lessons from Dickinsonians at various stages in their career journeys. During each dialogue, President Jones will interview  an alumni leader to learn about their journey, their experiences, and how Dickinson has shaped their lives.
During this dialogue, Interim President Jones will converse with President Emeritus William G. Durden '71, focusing on the power of leadership to transform organizations and shape the future.
This program is sponsored by the Clarke Forum for Contemporary Issues and co-sponsored by the Office of the President. It is also part of the Clarke Forum's Leadership in an Age of Uncertainty Series.
Biographies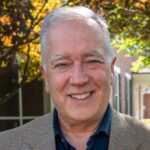 John E. Jones III '77 P'11 became interim president of Dickinson on July 1. He is Read more