Laura Megivern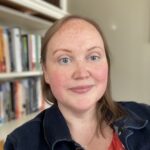 Interim Executive Director
Laura is also serving as the interim executive director for the Center for Civic Learning & Action (CCLA) and and also as it's director of Community Engagement, a position she has held since 2019. Laura is the staff contact for Dickinson's Community Engagement Fellows Program and Service Trips Program. Her previous professional and research work includes research on volunteer motivation and leadership; intergroup dialogue, social and racial justice education; student-focused service programs and belonging. Laura's professional and research interests include the intersections of politics and group conflict in community engagement work in higher education; constructivist diversity, equity, and inclusion education; and mentorship and support of new professionals and graduate students. Laura's current involvement in the Carlisle community includes the Partnership for Better Health's Community Investment Committee, Community CARES' Program Committee, the Carlisle Community Action Networks' Diversity & Inclusion Task Force, and Moving Circles. She holds degrees from the University of Vermont in Higher Education & Student Affairs Administration and Human Development & Family Studies.
Email: megiverl@dickinson.edu
255 W. Louther, 2nd Floor
Telephone: (717) 254-8917
Kimberly Flinchbaugh
Operations Manager
Kim assists the executive director in all the internal operations of the Forum, which include supervising the student project managers, developing publicity/marketing for all Clarke Forum programming, maintaining the Clarke Forum's website, and managing the budget. Kim has been with the Forum since 2004. She has a B.S. in business administration from Shippensburg University.
Email: flinchbk@dickinson.edu
249 W. Louther, 2nd Floor
Telephone: (717) 254-8110
Sara Markowitz
Program Coordinator

Sara joined the Clarke Forum in 2020. A Carlisle-area native and Dickinson alum, Sara oversees Clarke Forum programming operations by functioning as the executive director's liaison with guest speakers, faculty, administrators, students and outside organizations and works alongside the director to develop programming.
Sara manages the logistics of the guests' visit,  reviews and supervises the work of the student project managers, schedules and orchestrates livestream programs, and maintains the Forum's program calendar. She has a B.S. in Middle East studies and religion from Dickinson College and a M.A. in global environmental policy from American University.
Email: markowis@dickinson.edu
255 W. Louther, 1st Floor
Telephone: (717) 245-1796