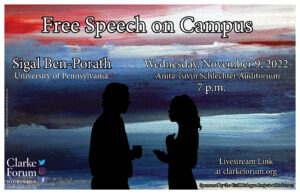 Anita Tuvin Schlechter Auditorium – 7 p.m.
Free Speech on Campus
Sigal Ben-Porath, Professor at the Graduate School of Education at the University of Pennsylvania
Free speech, a staple of modern democracy, has become the focal point for political and cultural forces impacting universities. Higher education is charged with the mandate to expand the boundaries of knowledge; to disseminate knowledge through teaching and other modes; and to serve the public by training citizens and leaders. To do so it must ensure that a broad range of views and approaches are discussed openly. But should all speech be protected in the name of free inquiry? Should the universities allow bigotry or exclusionary speech that targets specific groups? Should it make room for misinformation? Recent speech controversies around the globe expose the difficulty in carving a response in this polarized time. This struggle over the boundaries of speech is based in disagreement over core democratic principles. A democratic framework of inclusive freedom will be presented and defended. It reflects the values of protecting free thought, inquiry and expression, and maintaining a commitment to the dignity of all campus members.
This event is sponsored by the Clarke Forum for Contemporary Issues and is Read more