This film showing is part of the Movement Matters Film Series. It includes three documentaries that explore dance as a vehicle for social change and personal transformation.
Tuesday, March 22, 2016
Mathers Theatre, 7 p.m.
Pierre Dulaine, an internationally renowned ballroom dancer, takes his program, Dancing Classrooms, back to his city of birth, Jaffa.  Pierre teaches Palestinian-Israeli and Jewish-Israeli children to dance and compete together.  The film explores how the future might unfold if the art of movement and dance could triumph over the politics of history and geography. Comments by Dulaine. A dance class with Dulaine will follow.
This film showing is sponsored by the Clarke Forum for Contemporary Issue and co-sponsored by the Department of Theatre & Dance and the Milton B. Asbell Center for Jewish Life.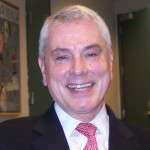 Biography (provided by the speaker)
Pierre Dulaine was born in Jaffa, Palestine. His Irish Protestant father married his Palestinian Catholic mother while serving with the British army. Being Palestinian meant being uprooted and fleeing with his family in 1948 at the creation of the State of Israel when he was four – with nowhere else to go his family landed in Amman, Jordan and as a teenager went to the UK.
It was in Birmingham at the age of 14 that Pierre began to dance, and in 1972 ended up in New York City for what was to have been a 2-week vacation. He started his dance partnership with Yvonne Marceau in 1976 winning four World Championship titles in show-dancing and performing in Tommy Tune's "Grand Hotel" on Broadway for 2½ years, followed by a 5-month run at the Dominion Theatre in London's West End. The New York Times dubbed Pierre a "Dancer and Teacher Extraordinaire."
Pierre & Yvonne with Otto Cappel founded the American Ballroom Theater in 1984 to bring ballroom dancing to a wider audience by putting on full length performances on the legitimate stage. The company's debut was at the Dance Theatre Workshop, followed by performances at The Brooklyn Academy of Music, The Joyce Theater, The Kennedy Center, The Herbst Theater in San Francisco, Jacob's Pillow Dance Festival, Akademie der Kunst in Germany, Maison de la Dance and at the Aix en Provence Dance Festival in France, Saddler's Wells Theatre in London…to name just a few here in the US and overseas.
In 1994 Pierre founded Dancing Classrooms, the Social and Emotional Development Arts in Education Program designed to cultivate essential life skills that include social awareness, confidence, and self-esteem in children through the practice of social dance.
In 2005 Mad Hot Ballroom, the hit documentary and in 2006 Take the Lead, with Antonio Banderas portraying Pierre Dulaine and his Dancing Classrooms work with children were released.
Ballroom dancing changed Pierre Dulaine's life, transforming him from a shy young man who rarely smiled to a charismatic, confident world champion. He's returned the favor, sharing the gift of ballroom, first, with 30 reluctant students in a New York City's public school and then, over 20 years, with over 410,000 children in 31 cities around the world.
He has also had the privilege of working with Autistic and Down syndrome children here in the USA and with adults in psychiatric clinics in Geneva, where the doctors and caregivers danced with their patients as well as in an Adult Homeless Shelter in Arizona. Patients began to feel normal once again and a high percentage regained their self-esteem and dignity…all because they were treated like ladies and gentlemen through the social graces that go hand in hand with ballroom dancing.
One might think his greatest triumphs would be the world show-dance championships he's won, the American for the Arts Awards for Arts and Education, the prestigious Ellis Medal of Honor, the Carl Alan Award or the United Nations nomination as a Goodwill Ambassador for promoting peace, but his hardest and most important challenge hit closer to home – when he decided to return to Jaffa, where he was born, to give the gift of dance and teach Jewish and Palestinian Israeli children how to "dance with the enemy." This journey was chronicled in the new documentary film, Dancing in Jaffa. Now on Video on Demand.
Related Links

Voice of America's Al Hurra Television Interview
"May I have This Dance Please" … TEDx Hollywood Talk 
Interview with Pierre Dulaine by Rowan Humphries '19