Anita Tuvin Schlechter Auditorium, 7 p.m.
Video of the Presentation is Available on House Divided's YouTube Channel
Constitution Day Conversation
The Past and Future of the Political Supreme Court
Rachel Shelden                             John E. Jones III

Penn State University                       Dickinson
To commemorate Constitution Day in 2022, Dickinson College will feature President John E. Jones III, a retired federal judge, in a wide-ranging constitutional conversation with noted political historian Rachel Shelden. Jones and Shelden will help put several of the current bitter controversies over democratic elections, abortion, and judicial partisanship into revealing historical context.
This program is sponsored by the Clarke Forum for Contemporary Issues and the House Divided Project. It is also part of the Clarke Forum's Leadership in an Age of Uncertainty Series.
Biographies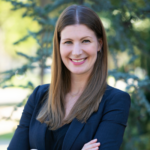 Rachel Shelden
is an associate professor at Penn State University and the director of the George and Ann Richards Civil War Era Center. Her work centers on the long U.S. Civil War era with a focus on politics, culture, slavery, constitutionalism, and law. Her first book,
Washington Brotherhood: Politics, Social Life, and the Coming of the Civil War
, examines how the social lives of federal politicians in Washington created a political fraternity that left
Read more