Stern Center, Great Room, 7 p.m.
Counting Lost Stars: Fiction Inspired by History
Kim van Alkemade, Author
In this program, the author will discuss the facts that inspired her latest novel, and how a writer's imagination transforms history into fiction to tell a human story. The Nazis' use of punched card computer technology to orchestrate the Holocaust becomes the thread that weaves together the fictional story of Cornelia Vogel, a computer operator in WWII Netherlands who uses her knowledge to save the woman she loves, and Rita Klein, a pioneering woman in the new field of computer programming in 1960s New York whose education is derailed by an unexpected pregnancy. Through the stories of a diverse cast of characters, Counting Lost Stars explores the coerced adoptions of the Baby Scoop Era, the unique horrors of transit Camp Westerbork in the Netherlands, the generational impact of trauma, the dangers of information technology, and individual courage in the face of systemic injustice. A book sale and signing will follow.
This program is sponsored by the Clarke Forum for Contemporary Issues and co-sponsored by the departments of American studies, data analytics, English, history and women's, gender & sexuality studies.
Biography (provided by the speaker)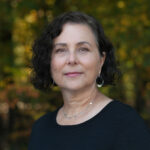 Kim van Alkemade was born in New York City and spent her childhood in suburban New Jersey. Kim's parents met in the iconic Empire State Building. Her late father was an immigrant from the Netherlands who survived the 1941 bombardment of Rotterdam. Her American-born mother is a descendant of Eastern European Jewish immigrants who got their start in the garment industry and lived in a tenement on the Lower East Side of Manhattan. Kim attended college in Wisconsin, studying English and history at UW-Parkside and earning a doctorate in English from UW-Milwaukee. For many years, she was a professor at Shippensburg University of Pennsylvania where she taught writing. Her creative nonfiction essays have been published in the literary journals Alaska Quarterly Review, So To Speak, and CutBank. Her debut novel, Orphan #8, about a woman who confronts the doctor who conducted medical experiments on her at a Jewish orphanage in the 1920s, appeared on the New York Times bestseller list and has been translated into eleven languages. Her second novel, Bachelor Girl, about a Jazz Age actress in New York City who receives a surprise inheritance from the millionaire owner of the Yankees baseball team, was published in 2018. Her third historical novel, Counting Lost Stars, about an unwed college student who has given up her baby for adoption helping a Holocaust survivor search for his lost mother, was inspired in part by her father's experiences in Nazi occupied Holland. Kim makes her home in Saratoga Springs, New York, with her partner, their two rescue dogs, and three feisty backyard chickens.
Related Links
Video trailer for Counting Lost Stars 
Blog posts about the author's research for Counting Lost Stars
Guest post the author recently published about Counting Lost Stars