Anita Tuvin Schlechter Auditorium, 7 p.m.
The Case for Rage: Why Anger Is Essential to Anti-Racist Struggle 
Myisha Cherry, University of California, Riverside
Anger has a bad reputation. Many people think that it is counterproductive, distracting, and destructive. It is a negative emotion, many believe, because it can lead so quickly to violence or an overwhelming fury. And coming from people of color, it takes on connotations that are even more sinister, stirring up stereotypes, making white people fear what an angry other might be capable of doing, when angry, and leading them to turn to hatred or violence in turn, to squelch an anger that might upset the racial status quo.
In this lecture, professor and philosopher Myisha Cherry will argue that anger is powerful, but its power can be a force for good, especially a form of anti-racist anger, which Cherry calls "Lordean rage." For Cherry, "Lordean rage" can use its mighty force to challenge racism: it aims for change, motivates productive action, builds resistance, and is informed by an inclusive and liberating perspective. Cherry will make her argument for anti-racist anger by putting Aristotle in conversation with Audre Lorde and James Baldwin in conversation with Joseph Butler, and will show how to make sure anger doesn't go to waste, but instead leads to lasting, long-awaited change. A book sale and signing will follow the presentation.
This program is sponsored by the Clarke Forum for Contemporary Issues and co-sponsored by the Constance & Rose Ganoe Memorial Award for Inspirational Teaching, the Department of Philosophy, and Ethics Across Campus & the Curriculum.
Topical Background – Written by Marina Stylianou '24
Biography (provided by the speaker)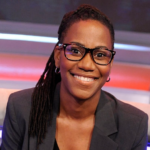 Myisha Cherry is an Associate Professor of Philosophy at the University of California, Riverside. She is also the Director of the Emotion and Society Lab. Her research is primarily concerned with the role of emotions and attitudes in public life. Cherry's books include UnMuted: Conversations on Prejudice, Oppression, and Social Justice (Oxford University Press) and, co-edited with Owen Flanagan, The Moral Psychology of Anger (Rowman & Littlefield). Her latest book is The Case for Rage: Why Anger is Essential to Anti-racist Struggle published by Oxford University Press. And after a 10–way auction, "The Failures of Forgiveness," will be released by Princeton University Press on September 19, 2023. Her forthcoming book includes "How to Love" currently under contract at Riverhead Press (US) and Basic Books (UK). Her work on emotions and race has appeared in The Atlantic, Boston Review, Los Angeles Times, Salon, Huffington Post, WomanKind, and New Philosopher Magazine. Cherry is also the host of the UnMute Podcast, where she interviews philosophers about the social and political issues of our day.
Related Links
Article: Passion: Journal of the European Philosophical Society for the Study of the Emotions, "Feeling Revengeful" 
Op-Ed: The Atlantic, "Anger Can Build a Better World"
TedxTalk: Anger is not a bad word