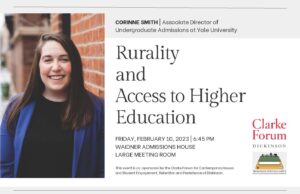 Waidner Admissions House, Large Meeting Room – 6:45 p.m.
This event is in-person only. It will not be livestreamed or recorded.
Opening Keynote: Rurality and Access to Higher Education
Corinne Smith,
Associate Director of Admissions at

Yale University

In this forum, Smith will address topics related to rurality and access to higher education, such as the complexities of geographic diversity and defining rural; the challenges in identifying rural and small-town applicants; college access barriers impacting rural students; the importance of rural student organizations; and national efforts to support rural and small-town students. This forum will be moderated by Madison Mellinger, student at Princeton University and will be presented via Zoom to an in-person audience.

This event is sponsored by the Clarke Forum for Contemporary Issues and co-sponsored by Student Engagement, Retention and Persistence at Dickinson. It is part of the national conference "From Small Town to Campus: Rural Student Experiences at Research One and Liberal Arts Institutions."

Topic overview written by Anne Fisher-Henson '24

Biography (provided by the speaker)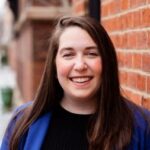 Corinne Smith (she/her) is an associate director of admissions at Yale University. Originally from a small town in Illinois of about 8,000 people, she received her bachelor's degree in political science and sociology and master's in higher education administration and policy from Northwestern University. At Yale, Smith has spent the last seven years developing the institution's rural outreach and recruitment strategy as well as serving on national rural and small-town special interest groups. She is also a co-advisor for the Rural Students Alliance at Yale (RSAY).
Outside of work, Smith is currently pursuing her doctorate in diversity and equity in education through the University of Illinois Urbana-Champaign. Her dissertation focuses on the intersectional identities of rural students and the college access barriers they face. In April 2022, Smith co-authored a book called College Essay Journal: A Mindful Manual for College Applications, which helps students from all backgrounds brainstorm and write their college applications.