Anita Tuvin Schlechter Auditorium – 7 p.m.
There will be a bag check upon entry
The Molly and Wayne Borges Memorial Lecture
Paradigm Lost: From Two-State Solution to One-State Reality
Ian Lustick, University of Pennsylvania  
Why have Israelis and Palestinians failed to achieve a two-state solution to the conflict that has cost so much and lasted so long? Whose interests are served by decades of a peace process merry-go-round and by the mirage of eventual success? If Palestinian Arabs and Israeli Jews can agree on neither a state for each nor a state for both, then what way forward is there? In this lecture, Professor Ian Lustick argues that protracted, identity-based conflicts are never solved by clever compromises arrived at through negotiations between antagonists. He explains the failure of negotiations toward a two-state solution by showing how the combination of Zionism's partially successful Iron Wall strategy for dealing with Arabs, an Israeli political culture saturated with "Holocaustia," and the Israel lobby's dominant influence on American policy toward the Arab-Israeli conflict scuttled efforts to establish a Palestinian state alongside Israel. But there is hope.  By appreciating the long-term political decisiveness of the unintended consequences of attempts to do other things, he shows how the one-state reality sets the stage for new struggles and "better problems" for both Israel and the Palestinians. Drawing on the history of scientific ideas that once seemed certain but were ultimately discarded, Lustick encourages shifting attention from impossible-to-implement blueprints for two-states to the democratizing competition that arises when different subgroups, forced to be part of the same polity, redefine their interests and form new alliances to pursue them.
This joint event is sponsored by St. John's Episcopal Church in Carlisle and the Clarke Forum for Contemporary Issues.
Timeline of Events: Arab-Israeli Conflict – written by Shayna Herzfeld '25
Biography (provided by the speaker)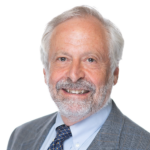 Dr. Ian S. Lustick holds the Bess W. Heyman Chair (Emeritus) in the Political Science Department of the University of Pennsylvania.  He received his Ph.D. in political science from the University of California, Berkeley; taught for fifteen years at Dartmouth College, worked for one year in the Department of State, and came to the University of Pennsylvania in 1991.  He has published widely in the fields of Middle East politics, comparative politics, social science methodology, US foreign and national security policy, and social science-based computer simulation. His present research focuses on the implications of the "one-state reality" for Israelis and Palestinians and on techniques of counterfactual forecasting. He is the originator of the Virtual Strategic Analysis and Forecasting Tool (V-SAFT), developed and applied for projects commissioned by DARPA, the Department of State, the National Counterterrorism Center, the Office of Naval Research, and various branches of the intelligence community.  He is a past president of the Politics and History Section of the American Political Science Association and of the Association for Israel Studies, and a member of the Council on Foreign Relations.  Among his books are  Arabs in the Jewish State (1980); For the Land and the Lord (1988, 1994); Unsettled States, Disputed Lands (1993); Trapped in the War on Terror (2006); and Paradigm Lost:  From Two State Solution to One-State Reality (2019). 
Related Links
Podcast: Paradigm Lost: From Two-State Solution to One-State Reality w/ Ian S. Lustick
Interview: Conversations with History: Ian Lustick
Article:  Middle East Journal, "Peace Process Carousel"
The Molly and Wayne Borges Memorial Lecture
This memorial lecture honors the lives and ministries of Wayne and Mary Ellen Borges by addressing important spiritual or social issues. As a joint venture of St. John's Episcopal Church of  Carlisle and Dickinson College, the lecture is intended to bring together the area religious community and college affiliates to explore topics of importance with speakers of recognized accomplishment and authority.