Anita Tuvin Schlechter Auditorium – 7 p.m.
B

ruce R. Andrews Lecture in Political Science
Sueño

Americano

or

Sueño

Republicano

? Latino Voters in 2020, 2022, and Beyond 
Bernard Fraga,
Emory University 
In 2020, support for Joe Biden among Latina/o/x voters was 8 percentage points lower than support for Hillary Clinton in 2016, the largest drop of any racial/ethnic group. While much media and academic attention has focused on understanding the impact of misinformation, COVID concerns, and racial animus on Latino voters in 2020, in this lecture Fraga will discuss co-authored work examining the demographic and core ideological characteristics of Latino voters who voted for Donald Trump in 2020. Using a mix of national survey data, precinct returns, and voter file records, and disaggregating components of electoral change, he provides evidence of increasing alignment between issue positions and vote choice among Latinos. Moreover, he highlights pro-Trump shifts among working-class Latinos and modest evidence of a pro-Trump shift among newly-engaged U.S.-born Latino children of immigrants and Catholic Latinos. Examining evidence from 2022 elections, Fraga concludes by discussing the likelihood of a durable Republican shift for Latinos going forward. 
The program is sponsored by the Clarke Forum for Contemporary Issues and the Bruce R. Andrews Fund and co-sponsored by the Department of Political Science.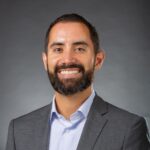 Biography (provided by the speaker) 
Dr. Bernard Fraga is an associate professor of political science at Emory University. He received his B.A. from Stanford University in 2008 and Ph.D. in government and social policy from Harvard University in 2013. Fraga studies American elections, focusing on racial/ethnic politics, voter turnout, and the impact of election laws on voters and politicians. His award-winning book The Turnout Gap: Race, Ethnicity, and Political Inequality in a Diversifying America (Cambridge University Press, 2018) provides a comprehensive analysis of race and voter turnout, examining White, Black, Latinx, and Asian American turnout and voting patterns from the 1800s to the present. The Turnout Gap documents large and persistent racial/ethnic differences in participation and explains the causes and consequences of these disparities. Findings from Fraga's work have been featured in various media outlets including The New York Times, The Washington Post, National Public Radio, and The Economist.  Fraga has also served as an expert witness on multiple cases dealing with elections and voting rights, and regularly advises organizations dedicated to enhancing the civic and electoral engagement of all Americans.
The Bruce R. Andrews Lecture
Until he passed away on January 8, 2005 Bruce R. Andrews was Robert Blaine Weaver Professor Emeritus of Political Science. Bruce taught at Dickinson from 1960 until his retirement in 1992. Recipient of The John J. Curley and Ann Conser Curley Faculty Chair in 2003, Bruce was one of the college's most distinguished and influential professors in the last 50 years. Bruce was loved and respected by students, colleagues on the faculty and staff, and many friends he and his wife Margery and children Stephen, Mary-Margaret and Carolyn had and have in the Carlisle community. His warm and engaging personality, deep knowledge of American politics, commitment to the liberal arts and active role as a citizen brightened and informed everything he did at Dickinson. As a living memorial to the example Professor Andrews set as a teacher, mentor and friend, those who knew him have endowed the Bruce R. Andrews Fund to continue the kind of vibrant discussion of politics and public life to which Bruce devoted his life.