Anita Tuvin Schlechter Auditorium – 7 p.m.
Psychedelic-Assisted Psychotherapy: A Promising Intervention Mental Health Treatment
Alan Davis, Ohio State University
Psychedelic substances produce cognitive effects ranging from psychologically challenging to spiritual, mystical, and insightful. Although several factors are related to the type of psychedelic experiences one might have (i.e., dose, purity of substance, substance used, individual/environmental factors), many report that these experiences are psychologically helpful. For example, cross-sectional surveys and laboratory experiments suggest that psilocybin can have psychotherapeutic benefits, with published reports documenting positive outcomes. Furthermore, evidence suggests that the acute psilocybin experience is associated with positive clinical outcomes and with persisting changes in attitude, mood, personality, beliefs, and behavior among clinical samples with depression, PTSD, addiction, and anxiety. Therefore, this lecture aims to briefly review the empirical literature supporting the study of psychedelic-assisted psychotherapy, provide a basic framework of the possible acute effects occasioned by these medicines, and assist attendees in developing a foundational understanding of contemporary psychedelic research.
This event is sponsored by the Clarke Forum for Contemporary Issues and co-sponsored by the Pre-Health Program and the departments of chemistry and psychology. This event was initiated by the Clarke Forum's student project managers.
Topic overview written by Natalia Fedorczak '24
Biography (provided by the speaker)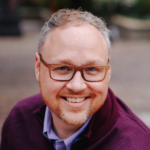 Dr. Alan Davis is a clinical psychologist and the director of the Center for Psychedelic Drug Research and Education in the College of Social Work at Ohio State University. They are an assistant professor of social work and psychiatry at OSU and also on the faculty in the Department of Psychiatry at Johns Hopkins University. Davis has extensive clinical experience working with US military veterans and civilians suffering with addiction, post-traumatic stress disorder, and depression. Their research explores alternative treatments for addiction and mental illness, including psychedelic-assisted therapies, and how to increase access to current treatment systems by reducing provider stigma about substance misuse and alternative treatment approaches. Davis has published over 80 scientific articles and book chapters and presented research at dozens of national and international scientific conferences. They also published results of a landmark trial in 2021 on the use of psilocybin therapy for depression in JAMA Psychiatry. In 2023, they are launching a pilot study of the first psilocybin trial for veterans with PTSD.
Related Links
CPDRE / College of Social Work / Research Gate / Johns Hopkins / Source Research Foundation