Colonel, U.S. Army (ret.)
** Breaking Issue **

ISIS in IRAQ: What are our Options?
Thursday, September 11, 2014
Stern Center, Great Room, 7 p.m.
The brutal beheading of American journalist James Foley has dramatically raised the stakes regarding what policy the United States should pursue in reaction to the rise of ISIS in Iraq. Núñez, who served over five years in Iraq, will offer his assessment of the situation and discuss what he thinks is the best way forward.
The event is sponsored by the Clarke Forum for Contemporary Issues and co-sponsored with the generous support of the Andrew W. Mellon Foundation Project on Civilian-Military Educational Cooperation.
Biography (provided by the speaker)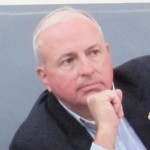 Dr. Joseph R. Núñez spent 30 years in the army and retired as a colonel in 2007.  He had the privilege and opportunity to command at the company and battalion level, leading as many as 750 soldiers.  His primary specialty was logistics, which was well tested with a major deployment to Haiti in 1994 for Operations Restore and Uphold Democracy, as he was responsible for planning and executing all logistical support to the 10th Mountain Division (Light Infantry) under very austere and challenging conditions.
Dr. Núñez two teaching assignments were at the U.S. Military Academy (West Point, NY: 1989-1992) and the U.S. Army War College (Carlisle, PA: 2001-2007).  He taught courses in political science, national security, and strategy.  He is a cum laude and distinguished military graduate of St. Lawrence University (1977) with a B.A. in government. Dr. Núñez also earned an M.A. degree in public administration (1989) and Ph.D. in foreign affairs from the University of Virginia (2006).  He won awards for his writing and has a record of opinion pieces in major newspapers, including the New York Times and the Financial Times.
Upon military retirement, Dr. Núñez was recruited to lead a team of experts/advisors in Iraq for the Department of Defense in Baghdad.  That led to a lateral move to the Department of State, where he first served as a senior provincial action officer on a Provincial Reconstruction Team and later as a senior political and economic advisor in our consulates in Kirkuk and Basrah.  He spent over five years serving in Iraq (2007-2013).
Video of the Lecture