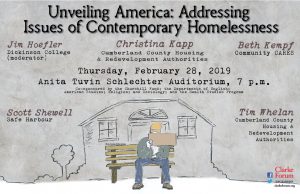 Thursday, February 28, 2019
Anita Tuvin Schlechter Auditorium, 7 p.m.
Panelists
Jim Hoefler (moderator),  Dickinson College
Christina Kapp, Cumberland County Housing & Redevelopment Authorities (Panelists was unable to present due to unforeseen circumstances)
Beth Kempf, Community CARES
Scott Shewell, Safe Harbour
Tim Whelan, Cumberland County Housing & Redevelopment Authorities
A panel of community leaders will discuss their efforts to find sustainable solutions to homelessness in this region.
This program is sponsored by the Clarke Forum for Contemporary Issues and co-sponsored by the Churchill Fund; the departments of English; American studies; religion; and sociology; and the health studies program. It was initiated by the Clarke Forum's student project managers and is part of the Clarke Forum's Leadership in an Age of Uncertainty Series.
Biographies (provided by the panelists)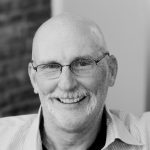 Jim Hoefler is professor of political science and coordinator of the policy studies program here at Dickinson where he has been teaching courses on politics and policy making since he joined the faculty in 1989.
Hoefler's primary area of research is end-of-life care and end-of-life decision making. He has published several books and numerous articles in this area and has served on the UPMC Pinnacle Carlisle's Biomedical Read more