Loyola Marymount University
Queer Intersectionalities: The Communicative Dimensions of Race, Masculinity and Sexuality
Wednesday, October 30, 2019
Anita Tuvin Schlechter Auditorium, 7 p.m.
This lecture will use critical autoethnography as a mode of examining the queer intersectionalities of race, masculinity and sexuality as a positionality of power. A book sale and signing will follow the presentation.
This program is sponsored by the Clarke Forum for Contemporary Issues and a Civic Learning and Engagement Initiative Grant from the Andrew W. Mellon Foundation and co-sponsored by the Division of Student Life, the departments of English, American studies, psychology, and women's, gender & sexuality studies, the Women's & Gender Resource Center, the Office of LGBTQ Services, the Popel Shaw Center for Race & Ethnicity, and the Office of the Vice President of Institutional Effectiveness and Inclusivity.  It is also part of the Clarke Forum's semester theme, Masculinities.
Biography (provided by the speaker)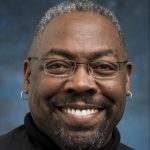 Bryant Keith Alexander, Ph.D. (Southern Illinois University Carbondale, M.S. and B.A, University of Southwestern Louisiana, now the University of Louisiana Lafayette), is professor of communication, performance, and cultural studies. He currently serves as dean, College of Communication and Fine Arts at Loyola Marymount University. He is an active scholar, lecturer Read more