Award-winning author
Am I a Real Man? Questioning Masculinity with a Beginner's Mind
Tuesday, October 15, 2019
Anita Tuvin Schlechter Auditorium, 7 p.m.
Author of Man Alive and Amateur: A True Story About What Makes a Man  as well as the first trans man to box in Madison Square Garden, McBee shares what masculinity means, and what it definitely does not mean. A book sale and signing will follow the presentation.
This program is sponsored by the Clarke Forum for Contemporary Issues and a Civic Learning and Engagement Initiative Grant from the Andrew W. Mellon Foundation and co-sponsored by the Women's & Gender Resource Center and the departments of English and philosophy. It is part of the Clarke Forum's semester theme, Masculinities.
Biography (provided by the speaker)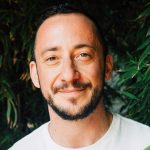 Thomas Page McBee is an author, journalist, television writer, and "questioner of masculinity" (The New York Times). His Lambda award-winning memoir, Man Alive, was named a best book of 2014 by NPR Books, BuzzFeed, Kirkus, and Publisher's Weekly. His "refreshing [and] radical" (The Guardian) second book, Amateur, a reported memoir about learning how to box in order to understand masculinity's tie to violence, was shortlisted for the UK's Baillie-Gifford nonfiction book prize, the Wellcome Book Prize, and a Lambda Literary Award, and was named a best book of 2018 by many publications. In the course of reporting the book, Thomas became the first transgender man to ever box in Madison Square Garden.
McBee has written columns for the Rumpus, Pacific Standard, Condé Nast's Them, and Teen Vogue. A former senior editor at Quartz, his essays and reportage have appeared in The New York Times, Playboy, Glamour, Out, The Cut, and more.
McBee speaks globally about post-Recession masculinity, gender at work, the current gender culture war, and how trans media narratives shape all of our bodies. He has taught courses at the City University of New York's graduate school of journalism and works with West Virginia University's graduate school of journalism on grassroots reporting projects that challenge national narratives about Appalachia.  He also works in television, and has written for both Tales of the City (2019, Netflix) and The L Word (2019, Showtime). He lives in Brooklyn with his wife.
Video of the Presentation