Northampton Community College
Performance: The Trouble with My Name
Tuesday, October 29, 2019
Anita Tuvin Schlechter Auditorium, 7 p.m.
Ávila's one-man show, The Trouble with My Name, blends comedy and poetry to shed light on the American Latino experience. The show draws on the arts, education, and entertainment to deliver a powerful message about who we are as a society.
This program is sponsored by the Clarke Forum for Contemporary Issues and co-sponsored by the department of Spanish & Portuguese, Latin American, Latino & Caribbean studies,  and American studies and the First Year Seminar Program.
Biography (provided by the speaker)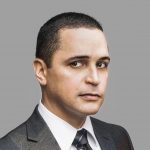 Javier Ávila (San Juan, Puerto Rico) is the recipient of the Instituto de Cultura Puertorriqueña Poetry Award, the Pen Club Book of the Year Award, and the Olga Nolla Poetry Award. Ávila's dual-language anthology Vapor brings together poems from his award-winning poetry books. His best-selling novel Different was made into a movie entitled Miente. Two of his other novels, The Professor in Ruins and the controversial La profesión más antigua, explore Puerto Rico's academic underworld. Ávila's most recent novel, the thriller Polvo, was published in 2019. Ávila has been honored with the Outstanding Latino Cultural Arts, Literary Arts and Publications Award given by the American Association of Hispanics in Higher Education. In 2015, he was named Pennsylvanias's Professor of the Year by the Carnegie Foundation for the Advancement of Teaching and the Council for Advancement and Support of Education. He is the first Latino to receive this honor. He was also named Hispanic Leader of the Year by the Lehigh Valley Chamber of Commerce. For the last two and a half years, Ávila has toured the country with his highly acclaimed one-man show, The Trouble with My Name, a performance that blends poetry and satire to explore the American Latino experience.