Lehman College, CUNY
Black Power, Gender and the Black Panther Party
Thursday, September 12, 2019
Anita Tuvin Schlechter Auditorium, 7 p.m.
In the long 1960s, African Americans sought to redefine black manhood and womanhood in the face of feminist social movements, radical political change and anti-colonial global upheavals. The Black Panther Party's gender politics provides an evocative case study to analyze the potential and limitations of challenging sexism and misogyny in the Black Power movement. A book sale and signing will follow the presentation.
This program is sponsored by the Clarke Forum for Contemporary Issues and a Civic Learning and Engagement Initiative Grant from the Andrew W. Mellon Foundation and co-sponsored by the Women's & Gender Resource Center, the Popel Shaw Center for Race & Ethnicity, and the departments of American studies and women's, gender & sexuality studies. It is part of the Clarke Forum's semester theme, Masculinities.
Biography (provided by the speaker)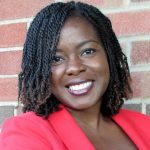 Robyn C. Spencer is a historian that focuses on Black social protest after World War II, urban and working-class radicalism, and gender. She teaches survey and seminar courses on Black history at Lehman College, City University of New York and graduate level courses at the CUNY Graduate Center. In 2018-2019 she was visiting endowed chair in women's and gender studies at Brooklyn College.
Since she began studying social movements as an undergraduate history major at SUNY Binghamton, her inspiration has come from the examples of those who made often incalculable sacrifice to fight injustice, racism, and sexism.  Her master's essay entitled "Contested Terrain: The Mississippi Flood of 1927 and the Struggle to Control Black Labor," explored the impact of the Mississippi Flood of 1927 on almost 300,000 displaced African Americans. Her first book The Revolution Has Come:  Black Power, Gender, and the Black Panther Party in Oakland, analyzes the organizational evolution of the Black Panther Party in Oakland. It was a finalist for the Benjamin Hooks Institute National Book Award sponsored by the Benjamin L. Hooks Institute for Social Change at the University of Memphis and received Honorable Mention for the Letitia Woods Brown Book Prize sponsored by the Association of Black Women's Historians. Her second book project: To Build the World Anew: Black Liberation Politics and the Movement Against the Vietnam War explores how and why the anti-imperialist struggle for Vietnamese independence became a rallying point for U.S.-based Black activists who were part of the freedom movement of the 1950s–1970s. This project was supported by a Mellon Mid-career fellowship at Yale University in 2016-2017, a Franklin Research Grant from the American Philosophical Society in 2018 and will be supported by an ACLS Frederick Burkhardt Residential Fellowship for Recently Tenured Scholars at the Institute for Advanced Study, School of Social Science in 2020-2021. She is also working on biographies of two Black women, left theorist Patricia Robinson and Angela Davis, radical icon.
Through writing, teaching and public presentations, she aims to educate others about the contributions of urban, working-class African Americans, especially women, to the Black freedom movement. She has presented her work at dozens of universities, several correctional institutions in Pennsylvania and k-12 classrooms. She has also participated in seminars aimed at educating high school teachers about the latest interpretive trends in her field; partnered with the New York Public Library to work on public events preserving local history in Astoria, Queens; and worked with the NYS Department of Education on professional development on women's history. She served as one of the co-editors of the  Radical Teacher special Issue on "Teaching Black Lives Matter" in 2016 and is co-editing a special issue of Meridians journal titled "Radical Transnationalism: Reimagining Solidarities, Violence, Empires" that will be published in 2019.
Video of Lecture