Lanky Yankee Puppet Co.
Jack & Jill
Thursday, April 18, 2019
The Cubiculo, 7 p.m.
A one-man puppet show performed by actor, puppeteer and musician Mark Blashford, featuring hand-carved, folk-toy-inspired puppets and live music. The story addresses water conservation and water rights presented in the style of an Appalachian Jack Tale. Appropriate for children. After the show, Blashford will host a Q&A including a discussion of using children's art to address serious environmental problems.
This program is sponsored by the Clarke Forum for Contemporary Issues and co-sponsored by the Center of Sustainability Education,  Alliance for Aquatic Resources Monitoring (ALLARM), and the department of theatre & dance. It is part of the Clarke Forum's semester theme, Sustainability.
Biography (provided by the speaker)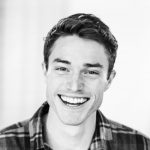 Mark Blashford is a Chicago-based actor, puppeteer, and musician. He specializes in traditional puppet performance, including: marionette, shadow, rod, and hand puppetry. As a trained puppet builder, Blashford has studied in Germany, Iceland, the Czech Republic, and the University of Connecticut's Puppet Arts Program. Blashford is a recipient of The American-Scandinavian Fellowship Award and The Jim and Jane Henson Scholarship Award. In 2018 he was an artist in residence at the University of Central Arkansas for a multidisciplinary Read more