Poet and Novelist
An Evening with Writer Linda Hogan
Wednesday, March 6, 2019
Anita Tuvin Schlechter Auditorium, 7 p.m.
Poet and novelist Linda Hogan will read from a selection of her works, many of which connect to themes related to gender, Indigeneity and the environment.
This program is sponsored by the Clarke Forum for Contemporary Issues and co-sponsored by the Women's & Gender Resource Center and the departments of creative writing, English, American studies and women's, gender & sexuality studies. It is part of the Clarke Forum's semester theme, Sustainability.
Biography (provided by the speaker)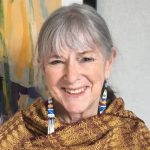 Linda Hogan (Chickasaw), former faculty at Indian Arts Institute, writer-in-residence for The Chickasaw Nation, and professor emerita from the University of Colorado, is an internationally recognized public reader, speaker, and writer of poetry, fiction, and essays. In July, 2014, DARK. SWEET. New and Selected Poems, was published from Coffee House Press. Her other books include INDIOS (Wings Press, 2012), a long poem and also a one-woman performance piece; ROUNDING THE HUMAN CORNERS (Coffee House Press, April 2008, Pulitzer nominee) and the well-regarded novel PEOPLE OF THE WHALE (Norton, August 2008). Works include novels MEAN SPIRIT, a winner of the Oklahoma Book Award, the Mountains and Plains Book Award, and a finalist for the Pulitzer Prize.  SOLAR STORMS, is a finalist for the International Impact Award, and and New York Times Notable Book of Year. POWER was also a finalist for the International Impact Award in Ireland. It was based on the killing of a Florida Panther, a most endangered species.
Poetry, THE BOOK OF MEDICINES was a finalist for the National Book Critics Circle Award. Her other poetry has received the Colorado Book Award, Minnesota State Arts Board Grant, an American Book Award, and a prestigious Lannan Fellowship from the Lannan  Foundation. In addition, she has received a National Endowment for the Arts Fellowship, a Guggenheim Fellowship and has received the Lifetime Achievement Award from the Native Writers Circle of the Americas, The Wordcraft Circle, and The Mountains and Plains Booksellers Association. Hogan's most recent award was the 2016 THOREAU PRIZE from PEN, and a Native Arts and Culture Award.
Her lyrical work is considered to be writing of literary quality that illuminates a new Environmental and Indigenous Activism, as well as Native spirituality. It is included in anthologies not only in literature but in works on Nature, Science and the Environment, including Animal Studies.
Hogan's nonfiction includes a respected collection of essays; DWELLINGS: A SPIRITUAL HISTORY OF THE LIVING WORLD; and THE WOMAN WHO WATCHES OVER THE WORLD: A NATIVE MEMOIR. In addition, she has, with Brenda Peterson, written SIGHTINGS, THE MYSTERIOUS JOURNEY OF THE GRAY WHALE for National Geographic Books, and edited several anthologies on nature and spirituality. She wrote the script, EVERYTHING HAS A SPIRIT, a PBS documentary on American Indian Religious Freedom.
Hogan was inducted into the Chickasaw Nation Hall of Fame in 2007 for her contributions to Indigenous literatures.
She edited a book of work from thirty years of Parabola essays on Native spirituality, The Inner Journey: Native Traditions, for Morning Light Press. This is a collection of essays on myth and tradition from Parabola Magazine. Her main interests as both writer and scholar are environmental issues, indigenous spiritual traditions and culture, and Southeastern tribal histories. She is currently on the Board of Advisors for Orion Magazine, and several organizations.
DARK. SWEET. NEW AND SELECTED POEMS is a collection of Hogan's work since the 1970's. It's publication contains selections from previous published works and shows her powerful growth as an Indigenous writer, thinker, and environmentalist.
Hogan recently finished a new book of poems, A HISTORY OF HAPPINESS, as well as a novel: THE MERCY LIARS. She is now finishing a book of essays entitled THE RADIANT LIFE OF ANIMALS, the title taken from her chapter on Traditional Indigenous Knowledge and animals in a new book on Tradition Ecological Knowledge coming out from Oxford University Press.
Hogan was involved for eighteen years with the Native Science Dialogues, and the new Native American Academy and for several years with the SEED Graduate Institute in Albuquerque. She presented a 90 minute program at the International Congress of the Parliament of World Religions in Melbourne, Australia, as well as participating on a panel on Tribal Sovereignty at the same Congress in December 2009.
She is in demand as both a lecturer and a reader of her own work, nationally and internationally. She continues to travel for literary readings and to participate in conferences.
Hogan's work was translated into all major languages by the U.S. Information Office.She was a keynote speaker in Spain at the Eco-criticism gathering in Alcala,' at major universities in Taiwan, at the International Studies on Religion, Culture, and Nature in Amsterdam, at International EASLE (Literature and Environment), in Turkey, and was a plenary speaker at a 2013 conference in Taiwan on Migrants and Memory. More recently she gave the keynote at the ASLE conference in Moscow, Idaho, a reader and speaker in Podgorica, Montenegro at the International Writers Conference sponsored by the US embassy and Karver Bookstore, and at the recent Environmental Humanities conference in Perpignan, France.
In April 2014 Hogan was one of the writers adding to the 200 year record of the Andrews Long Term Research site in the forest near Corvallis, Oregon, a collaboration between scientists and artists which at this time continues to influence her writing.
Video of the Presentation