International University Alliance (IUA)
An Anticipatory Memoir: Aging on the Diagonal
Tuesday, February 18, 2020
Anita Tuvin Schlechter Auditorium, 7 p.m.
Advanced age – or what is commonly called "The Third Chapter" – arguably remains without operative definition, although so many citizens globally are entering that phase of life. Based upon personal reflection, a definition is proposed for debate – a definition that could lead to a "Good Life."
The program is sponsored by the Clarke Forum for Contemporary Issues and is part of our The Good Life series. It is also part of the Clarke Forum's Leadership in an Age of Uncertainty Series.
Biography (provided by the speaker)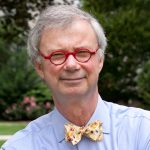 William G. Durden is President Emeritus of Dickinson College, where he served for 14 years (1999-2013). During his tenure at Dickinson he was both a professor of German and a professor of Education. He is currently president of the International University Alliance (IUA), a non-profit association of top-tier U.S. research universities committed to international education (sponsored by Shorelight), chief global engagement officer at Shorelight, a courtesy professor (research) in the School of Education, Johns Hopkins University and an operating partner of Sterling Partners, a diversified investment management platform founded in 1983 and based in Chicago with branch offices in Baltimore and Miami.
Durden received his undergraduate degree from Dickinson College (1971) in German and philosophy and M.A. and Ph.D. degrees in German language and literature from Johns Hopkins University. Directly following graduation from Dickinson, he was a Fulbright-Hays Scholar at the University of Basle, Switzerland. He has also studied at the University of Freiburg and the University of Muenster, Germany. He was a Klingenstein Fellow at Columbia University and American Council of Learned Societies' Fellow in Wolfenbuettel, Germany. He served as an officer in the U.S. Army, Military Intelligence Branch and most recently chaired the Middle States accreditation process for the United States Military Academy (West Point).
Directly prior to his 14-year tenure at Dickinson College, Durden was simultaneously president of a division of the Sylvan Learning Systems, Inc. (today Laureate Education, Inc.) and vice president of academic affairs for the Caliber Learning Network—a joint venture of MCI and Sylvan. Prior to Sylvan, Durden was a member of the German department at the Johns Hopkins University and founding executive director of the Center for Talented Youth (CTY) for 16 years. During his Hopkins' engagement at CTY, he was also a senior education consultant to the U.S. Department of State for 11 years and chaired the Advisory Committee on Exceptional Children and Youth.  He served as a "private tutor" to then Prime Minister Tony Blair on the topic of talent development and global competitiveness.
Durden served as chair of the advisory board of the Council for the International Exchange of Scholars (the Faculty Fulbright program) and as a member of the board of trustees of the Institute of International Education (IIE) as well as chair of the German Chancellors Fellowship U.S. Selection Committee (Humboldt Foundation). He was a trustee of St. Paul's School (MD) and Indian Mountain School (CT). He currently serves as a trustee of Walden University and Squashwise Baltimore, a non-profit organization to help Baltimore City youth achieve their academic goals through squash and associated academic tutoring. He is also chair of the board of trustees of Columbia College Hollywood/Flashpoint College, Chicago, a joint non-profit, higher education institution focused on the liberal arts, the arts, film and media. He was appointed to the honorary council of LEAD WITH LANGUAGES campaign commencing March 1, 2017. This campaign was undertaken at the bipartisan request of the U.S. Congress. He was also appointed in 2019 as Ambassador to Maryland (USA) for the University of Freiburg, Germany.
Durden has published and spoken widely on topics ranging from German literature to gifted and talented education, international education policy, higher education, first-generation college students, international education, the distinctiveness of U.S. higher education and the liberal arts. His most recent publication appeared in the London Times (and was reprinted in PIE) and is entitled, "Can an American Liberal Arts Approach Improve the British Higher Education System" and he is currently writing about what he is calling "precision education."
Reference Materials
Living on the Diagonal and Other Selected Writings, by William G. Durden
Leading Minds, by Howard Gardner
The 100-Year Life: Living and Working in an Age of Longevity, by Lynda Gratton & Andrew Scott
I Contain Multitudes: The Microbes Within Us and a Grander View of Life, by Ed Yong
Lifespan: Why We Age—and Why We Don't Have To, by David A. Sinclair with Matthew D LaPlante
The Third chapter: Passion, Risk and Adventure in the 25 Years AFTER 50, by Sara Lawrence-Lightfoot.
Video of the Lecture