Record-Holding Master Marathoner
Just Run
Monday, November 11, 2019
Anita Tuvin Schlechter Auditorium, 7:30 p.m.
Dykes will explore the many ways running is made overly complicated and how both running and your life can be made so much more enjoyable by employing his "Just Run" philosophy.
This event is sponsored by the Clarke Forum for Contemporary Issues and co-sponsored by the Department of Athletics and the Office of Student Leadership & Campus Engagement. This event was also the first program that is part of our new The Good Life series.
Biography (provided by the speaker)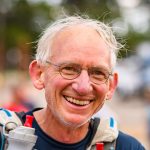 Gene Dykes was born in Canton, OH in 1948. He lived there until he attended Lehigh University, graduating in 1970 with a B.A. in chemistry.  After two years in the army, serving in Vietnam and Japan, Dykes received a Ph.D. in biochemistry from Cornell University in 1978.  He then embarked upon a career in computer programming until he retired in 2012.  He married in 1982, and along with his wife, raised two daughters who now reside in San Francisco and Minneapolis.  His wife is a professor of economics in the Wharton School of the University of Pennsylvania.
Dykes ran track in high school and college, but for most of his life was an occasional jogger.  At age 50, he tore his hamstring and was unable to run at all for six years.  Once he healed, he began running for enjoyment again. At age 58 he ran the New York City Marathon, his first 26.2.  Next month he will complete his 120th marathon by running the New York City Marathon for the second time.  He has also completed many ultra marathons.  In the last two years he set 14 national age group records and won 15 national championships at distances from 3K to 100 miles.  Last December he ran the world's fastest marathon for age 70, 2:54:23, and this spring he broke the Boston Marathon age group course record by almost 20 minutes.
Related Links
Runner's World interview: https://www.youtube.com/watch?v=XjDsILv40XM
Fox29 Interview: https://www.fox29.com/news/70-year-old-man-sets-world-record-marathon-time
Blog post by Strava.com: https://blog.strava.com/gene-dykes-marathon-world-record-run-17459/
Video of the Lecture