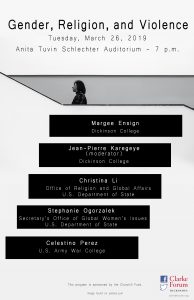 Tuesday, March 26, 2019
Anita Tuvin Schlechter Auditorium, 7 p.m.
Panelists:
Margee Ensign, Dickinson College
Jean-Pierre Karegeye, (moderator), Dickinson College
Christina Li, U.S. Department of State, Office of Religion and Global Affairs
Stephanie Ogorzalek, U.S. Department of State, Secretary's Office of Global Women's Issues
Celestino Perez, U.S. Army War College
In several current world conflicts, multiple sides claim religious belief as a motivation for violent actions, including gender-based violence. In fact, the U.N. "Plan of Action for Religious Leaders and Actors to Prevent Incitement to Violence That Could Lead to Atrocity Crimes" lists gender-based violence as one of the key elements related to atrocity crimes. Panelists will discuss prevention strategies, military actions, education, government policies, and constructions of gender.
This event is sponsored by the Clarke Forum for Contemporary Issues and the Churchill Fund. It is part of the Clarke Forum's Leadership in an Age of Uncertainty Series.
Biographies (provided by the speakers)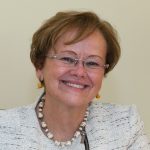 Margee Ensign became Dickinson's 29th president on July 1, 2017. Prior to Dickinson she served for seven years as the president of the American University of Nigeria (AUN), a young, private university based on the U.S model of university education. There she Read more