Anita Tuvin Schlechter Auditorium (ATS), 7 p.m.
Radically Reimagining Admissions for Racial Equity
Marie Bigham, founder and executive director of ACCEPT (Admissions Community Cultivating
Equity & Peace Today)
Bigham, founder of ACCEPT & co-host of Hack the Gates (a research-to-practice partnership), will discuss grassroots efforts to rethink and redesign the path to postsecondary education. Bigham will also explore how the pandemic changed (or didn't change) college admissions.
This program is sponsored by the Clarke Forum for Contemporary Issues and co-sponsored by the Office of Admissions. It is part of the Clarke Forum's Leadership in an Age of Uncertainty Series.
Topic overview written by Amanda Sowah '22
Biography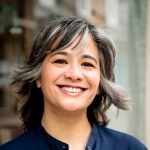 Marie Bigham is the founder and executive director of ACCEPT (Admissions Community Cultivating Equity & Peace Today), an advocacy group and community that centers racial justice in the college admissions process and profession. Recently named a "Global Game Changer" by Facebook, Bigham is a national leader in college admission redesign and reform. In 2018, ACCEPT received the Excellence in Education Award from the National Association for College Admissions Counseling, awarded to "those who use their prominence to advance equity and access in education."  Bigham's lifelong commitment to racial justice has informed her professional path. With almost 25 years in the college admissions ecosystem, Bigham has served on the board of directors for the National
Association of College Admission Counseling (NACAC); as vice chair and director of communication for Association of College Counselors in Independent Schools (ACCIS); and on the board of directors of Texas Association of College Admissions Counseling (TACAC). Bigham entered admissions at her alma mater, Washington University in St. Louis (Class of 1995), where she earned a B.A. in political science and women's studies and a minor in glassblowing. She served as associate director of Undergraduate Admissions at Washington University, as associate director of College Counseling at Riverdale
Country School (NY), and as director of College Counseling at The Bishop's School (CA), Greenhill School (TX), and Isidore Newman School (LA).
Video of the Presentation