Anita Tuvin Schlechter Auditorium (ATS), 7 p.m.
Seeking Justice for Missing and Murdered Indigenous Women
Elizabeth Rule, assistant professor of critical race, gender, and culture studies, American University
As we near Native American History Month, join Rule (Chickasaw Nation) for a discussion about contemporary Native American politics and pressing issues. In this talk, Rule will discuss the Missing and Murdered Indigenous Women issue, legislation to empower and protect Native women, and what you can do to be an ally in the fight against gender-based violence.
A healing Jingle Dance will follow the presentation.
This program is sponsored by the Clarke Forum for Contemporary Issues and co-sponsored by the Women's & Gender Resource Center and the Community Studies Center.
Topic overview written by Xenia Makosky '24
Biography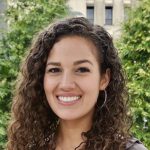 Dr. Elizabeth Rule (Chickasaw Nation) is assistant professor of critical race, gender, and culture studies at American University. Rule's research on Indigenous issues has been featured in the Washington Post, Matter of Fact with Soledad O'Brien, The Atlantic, Newsy, and NPR. She is also a published author, releasing articles in American Quarterly and the American Indian Culture and Research Journal. Rule has two forthcoming monographs. The first, Reproducing Resistance: Gendered Violence and Indigenous Nationhood, analyzes the intersection of violence against Native women, reproductive justice, and the Missing and Murdered Indigenous Women; this work received the Julien Mezey Award from the Association for the Study of Law, Culture, and the Humanities in 2020. Rule's second monograph, Indigenous DC: Native Peoples and the Nation's Capital, analyzes historical and contemporary sites of Indigenous importance in Washington and compliments her Guide to Indigenous DC mobile application. Previously, Rule has held posts as director of the Center for Indigenous Politics and Policy and Faculty in Residence at George Washington University, MIT Indigenous Communities fellow, postdoctoral fellow at American University, and Ford Foundation fellow. Rule received her Ph.D. and M.A. in American studies from Brown University and her B.A. from Yale University.
Related Links
Follow Elizabeth Rule on Twitter and Instagram.
The History of the Jingle Dance
Video of the Presentation