Virtual Presentation in Anita Tuvin Schlechter Auditorium, 7 p.m.
Translation (in) Visible
Regina Galasso, associate professor in the Spanish & Portuguese Studies Program and director of the Translation Center, University of Massachusetts Amherst
Galasso discusses language and translation in our lives with a focus on examples from intersections of English and Spanish in the United States. She proposes that an increased presence of translation not only offers language access to certain audiences but also give access to language to others.
This event is sponsored by the Clarke Forum for Contemporary Issues and co-sponsored by the departments of Spanish & Portuguese studies, Italian & Italian studies, French & Francophone studies, East Asian studies and German.
Biography (provided by the speaker)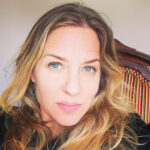 Regina Galasso (B.A. Rutgers University; M.A. Middlebury College; Ph.D. Johns Hopkins University) is currently associate professor in the Spanish and Portuguese Studies Program and director of the Translation Center of the University of Massachusetts Amherst. Her research and teaching interests include 20th- and 21st-century Iberian literatures, literature of the city, and translation. She is the author of Translating New York: The City's Languages in Iberian Literatures (Liverpool UP, 2018) and recipient of the 2017 Northeast Modern Language Association Book Award. She is the editor of the forthcoming This Is a Classic: Translators on Making Writers Global (Bloomsbury, 2021). She is the co-editor of two edited volumes: Avenues of Translation: The City in Iberian and Latin American Writing (Bucknell UP, 2019), recipient of the 2020 South Atlantic Modern Language Association Book Award, with Evelyn Scaramella, and a special Nueva York issue of Translation Review 81 (2012) with Carmen Boullosa. She is the translator of Alicia Borinsky's Lost Cities Go to Paradise (Swan Isle P, 2015) and Miguel Barnet's A True Story: A Cuban in New York (Jorge Pinto Books, 2010). Since 2018, Galasso has worked with public schools throughout Massachusetts to provide educational and professional development opportunities to interpreters and translators who work in K-12 schools. During 2018-2019, she was appointed by the Commissioner of the Department of Elementary and Secondary Education to serve on the School Interpreters Task Force and continues to partner with DESE to improve language access initiatives in Massachusetts schools. She worked as a Spanish teacher at the César Chávez Public Charter Schools for Public Policy and an interpreter during the Kennedy Center's AmericArtes Festival in Washington, DC. Before joining the faculty at UMass Amherst, she was a professor at the Borough of Manhattan Community College of the City University of New York.
Video of the Presentation