Anita Tuvin Schlecther Auditorium (ATS), 7 p.m.
Presidential Dialogues: Lessons in Leadership
John E. Jones III '77 P'11, interim president, Dickinson College
William G. Durden '71,  president emeritus, Dickinson College
Dickinson produces leaders who impact their communities and effect positive change. Each one of those leaders has a story to tell and valuable lessons to share. This semester, interim President John E. Jones III '77, P'11, is kicking off Presidential Dialogues, a discussion series that will highlight and share these distinctive stories and lessons from Dickinsonians at various stages in their career journeys. During each dialogue, President Jones will interview  an alumni leader to learn about their journey, their experiences, and how Dickinson has shaped their lives.
During this dialogue, Interim President Jones will converse with President Emeritus William G. Durden '71, focusing on the power of leadership to transform organizations and shape the future.
This program is sponsored by the Clarke Forum for Contemporary Issues and co-sponsored by the Office of the President. It is also part of the Clarke Forum's Leadership in an Age of Uncertainty Series.
Biographies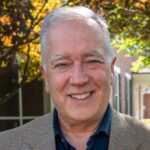 John E. Jones III '77 P'11 became interim president of Dickinson on July 1. He is slated to serve a two-year term. Jones previously served as chair of Dickinson's board of trustees and recently retired as chief judge of the U.S. Middle District Court of Pennsylvania, a position to which he was appointed by President George W. Bush and unanimously confirmed by the United States Senate in 2002.
Jones has presided over a number of high-profile cases, including the landmark case of Kitzmiller v. Dover School District, after which he held that it was unconstitutional to teach intelligent design within a public school science curriculum. He also resolved the matter of Whitewood v. Wolf by striking down as unconstitutional Pennsylvania's ban on same-sex marriage. Jones co-chaired Pennsylvania Governor-elect Tom Ridge's transition team and served as chair of the Pennsylvania Liquor Control Board.
Jones has received numerous accolades during his career. In 2006, Time Magazine named him as one of its Time 100 most influential people in the world. He was the recipient of the first John Marshall Judicial Independence Award given by the Pennsylvania Bar Association. He also received the Geological Society of America's President's Medal and was inducted into the George Washington Spirit Society. An engaged alumnus and champion of the liberal arts, Jones was presented with an honorary doctorate in law and public policy from Dickinson College, where he also was recognized as one of the 25 most influential graduates in the college's history.
Born and raised in Schuylkill County, Pennsylvania, he is a graduate of Mercersburg Academy, Dickinson College and Penn State Dickinson Law. He and his wife Beth have two children, Meghan and John '11, and three grandchildren.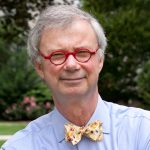 William G. Durden '71 is president emeritus of Dickinson College, where he served for 14 years (1999-2013). During his tenure at Dickinson he was both a professor of German and a professor of Education. He is currently president of the International University Alliance (IUA), a non-profit association of top-tier U.S. research universities committed to international education (sponsored by Shorelight), chief global engagement officer at Shorelight, a courtesy professor (research) in the School of Education, Johns Hopkins University and an operating partner of Sterling Partners, a diversified investment management platform founded in 1983 and based in Chicago with branch offices in Baltimore and Miami.
Durden received his undergraduate degree from Dickinson College (1971) in German and philosophy and M.A. and Ph.D. degrees in German language and literature from Johns Hopkins University. Directly following graduation from Dickinson, he was a Fulbright-Hays Scholar at the University of Basle, Switzerland. He has also studied at the University of Freiburg and the University of Muenster, Germany. He was a Klingenstein Fellow at Columbia University and American Council of Learned Societies' Fellow in Wolfenbuettel, Germany. He served as an officer in the U.S. Army, Military Intelligence Branch and most recently chaired the Middle States accreditation process for the United States Military Academy (West Point).
Directly prior to his 14-year tenure at Dickinson College, Durden was simultaneously president of a division of the Sylvan Learning Systems, Inc. (today Laureate Education, Inc.) and vice president of academic affairs for the Caliber Learning Network—a joint venture of MCI and Sylvan. Prior to Sylvan, Durden was a member of the German department at the Johns Hopkins University and founding executive director of the Center for Talented Youth (CTY) for 16 years. During his Hopkins' engagement at CTY, he was also a senior education consultant to the U.S. Department of State for 11 years and chaired the Advisory Committee on Exceptional Children and Youth.  He served as a "private tutor" to then Prime Minister Tony Blair on the topic of talent development and global competitiveness.
Durden served as chair of the advisory board of the Council for the International Exchange of Scholars (the Faculty Fulbright program) and as a member of the board of trustees of the Institute of International Education (IIE) as well as chair of the German Chancellors Fellowship U.S. Selection Committee (Humboldt Foundation). He was a trustee of St. Paul's School (MD) and Indian Mountain School (CT). He currently serves as a trustee of Walden University and Squashwise Baltimore, a non-profit organization to help Baltimore City youth achieve their academic goals through squash and associated academic tutoring. He is also chair of the board of trustees of Columbia College Hollywood/Flashpoint College, Chicago, a joint non-profit, higher education institution focused on the liberal arts, the arts, film and media. He was appointed to the honorary council of LEAD WITH LANGUAGES campaign commencing March 1, 2017. This campaign was undertaken at the bipartisan request of the U.S. Congress. He was also appointed in 2019 as Ambassador to Maryland (USA) for the University of Freiburg, Germany.
Durden has published and spoken widely on topics ranging from German literature to gifted and talented education, international education policy, higher education, first-generation college students, international education, the distinctiveness of U.S. higher education and the liberal arts. His most recent publication appeared in the London Times (and was reprinted in PIE) and is entitled, "Can an American Liberal Arts Approach Improve the British Higher Education System" and he is currently writing about what he is calling "precision education."
Video of the Presentation