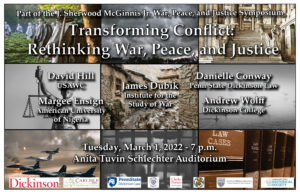 **Due to a temporary change in COVID-19 protocols at Dickinson College, this event will be livestreamed only. Questions can be posed using the Live Chat feature on YouTube livestream. Please join the event using this link:
Part of the J. Sherwood McGinnis Jr. War, Peace, and Justice Symposium
Transforming Conflict: Rethinking War, Peace, and Justice
Danielle Conway, Penn State Dickinson Law
James Dubik (moderator), Institute for the Study of War
Margee Ensign, American University of Nigeria (former president of Dickinson College)
Andrew Wolff, Dickinson College
This panel discussion will address three essential questions: What is the nature and purpose of war? What is peace? And what is justice? This program is the prelude event to the J. Sherwood McGinnis Jr. War, Peace, and Justice Symposium scheduled for Fall 2022. The symposium will explore the complex interrelationships between war, peace, and justice. Of central concern is the question, "What outcomes do you, the American people, expect from the expenditure of national blood and treasure during conflict?"
The J. Sherwood McGinnis Jr. War, Peace, and Justice Symposium is being developed in partnership with the Association of the U.S. Army, the Carlisle Area Chamber of Commerce, the Cumberland County Historical Society, Dickinson College, the Joint Civil-Military Interaction Network, and Penn State Dickinson Law.  In addition, participating organizations include the U.S. Army War College and the U.S. Peacekeeping and Stability Operations Institute.  The symposium is sponsored by the Cor Christi Institute, Inc. a 501(c)(3) organization. This program is also part of the Clarke Forum's Leadership in an Age of Uncertainty Series.
Biographies (provided by the panelists)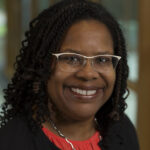 Danielle M. Conway is the dean and Donald J. Farage Professor of Law at Penn State Dickinson Law. A leading expert in procurement law, entrepreneurship, intellectual property law, and licensing intellectual property,  Conway joined Dickinson Law after serving for four years as dean of the University of Maine School of Law and 14 years on the faculty of the University of Hawai'i at Mānoa, William S. Richardson School of Law, where she was the inaugural Michael J. Marks Distinguished Professor of Business Law.
Prior to her deanships, Conway was a member of the faculties at the Georgetown University Law Center and the University of Memphis Cecil C. Humphreys School of Law. She also served as a Fulbright Senior Scholar in Australia and later as chair in law at LaTrobe University, faculty of law & management in Australia. Conway is the author or editor of six books and casebooks as well as numerous book chapters, articles, and essays. Her scholarly agenda and speeches have focused on, among other areas, advocating for public education and for actualizing the rights of marginalized groups, including Indigenous Peoples, minoritized people, and members of rural communities. Conway's most recent publication focuses on different aspects of building an antiracist law school, legal academy, and legal profession through leadership, vision priorities, and transformational diversity, equity, and inclusion-focused admissions and faculty and staff recruitment and retention.
Conway is the co-recipient of the inaugural Association of American Law Schools' (AALS) Impact Award, which honors individuals who have had a significant, positive impact on legal education or the legal profession. Conway received this recognition for her work in establishing the Law Deans Antiracist Clearinghouse Project. Launched in June 2020, the project is a webpage for law deans, faculty and staff, and the public that contains resources and information related to addressing racism in law and legal education. Conway also serves as one of three co-chairs of the Select Penn State Presidential Commission on Racism, Bias, and Community Safety.
Conway earned her bachelor's degree from New York University Stern School of Business, double majoring in finance and international business. She earned her J.D. degree, with honors, from the Howard University School of Law, where she graded on to the Howard Law Journal and served on the leadership board of the National Moot Court Team. She holds dual LL.M. degrees in Government Procurement Law and Environmental Law from the George Washington University Law School. She has been admitted to the bars in the District of Columbia, Hawai'i, New Jersey, and Pennsylvania.
Conway has been a member of the American Law Institute since 2004. She is an appointed member of the AALS Executive Committee, appointed to the Board of Directors of AccessLex Institute, and an appointed member of both the Pennsylvania Bar Association COVID-19 Task Force and the Joint Task Force on Continuity of Legal Services. In 2016, Dean Conway retired from the U.S. Army in the rank of lieutenant colonel after 27 years of combined active, reserve, and national guard service.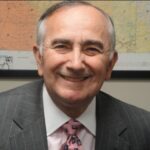 Lieutenant General James M. Dubik is a retired army lieutenant general with over 37 years of active service serving as infantryman, paratrooper, and ranger.  Dubick is a former commanding general of the 25th Infantry Division and former Commanding General of First U.S. Corps.  His last job on active duty was serving as commander of the Multinational Security Transition Command-Iraq and the NATO Training Mission-Iraq during the "Surge" of 2007 and 2008.
Currently, Dubick serves as senior fellow at the Institute for the Study of War and Institute for Land Warfare as well as a 2021-2022 George Washington Research Fellow, the Fred W. Smith National Library. Dubick is  president and CEO of Dubik Associates, an international consulting firm with a focus on leader development, organizational change, and national strategic and intelligence issues.  He is also a board member and trustee of Leadership Roundtable, member of the Council on Foreign Relations and the National Security Advisory Council, U.S. Global Leadership Coalition.
Dubick published over 200 essays, articles, monographs, op-eds, chapters in books, and forwards to books.  He is author of Just War Reconsidered:  Strategy, Ethics, and Theory, and  co-author with General Gordon Sullivan of Envisioning Future Warfare and recurring author in  Army Magazine. He is often quoted in print and on-line media. He is a frequent lecturer, panel member, and media analyst on national security issues.
Dubick is the recipient of the 2017 Thomas B. Hagan Dignitas Award, a member of the U.S. Army Ranger Hall of Fame as well as a distinguished member of the U.S. Army 75th Ranger Regiment.
Dubick earned his Ph.D. in philosophy from the Johns Hopkins University and a Master of Arts and Science from the U.S. Army Command and General Staff College.  He is a graduate of the Marine Corps' Amphibious Warfare School, Army Command and General Staff College, and the Advanced Operational Studies Fellowship Program, U.S. Army School of Advanced Military Studies.  He completed an MIT fellowship program for national security studies as well as executive programs in national security at Harvard's JFK School of Government and Syracuse University's Maxwell School of Citizenship and Public Affairs.
Dubick is a former professor at Georgetown University's Center for Strategic Studies and former 2012-2013 General Omar N. Bradley Chair in Strategic Leadership cosponsored by the U.S. Army War College, Dickinson College, and Penn State Law School.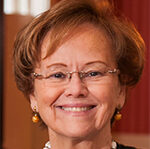 Margee Ensign is the president of American University of Nigeria (AUN), an American-style institution in the west African country's northeast Adamawa State. Ensign held the university's presidency from 2010 to 2017, when she returned to the U.S. to become Dickinson College's 29th president. After four years at Dickinson, Ensign returned to AUN, where she felt called to continue the education and peace work she had started at the university. Her administration has been marked by its focus on establishing AUN as a "development university," paired with the school's extensive work in the community, sustainability and most notably the establishment of the Adamawa Peace Initiative (API), which successfully promoted peace and countered Boko Haram through education, humanitarian assistance for 300,000 refugees and youth empowerment.
Ensign has been internationally recognized for her pioneering work at AUN, including receiving the 2011 African Leadership Award in Educational Excellence, granted by London-based African Leadership Magazine. Rotary International made her a Paul Harris Fellow in 2012. In 2014, Ensign received the African Leadership Award from the World Centre for Corporate Social Responsibility. In 2015, the Women of Jama'atu Nasril Islam in Nigeria recognized her for her contributions to leadership, philanthropy and education of women and girls in northeast Nigeria.
During her time at Dickinson, Ensign launched a number of new initiatives that were interdisciplinary and global, stressing ethics, sustainability and community engagement. She also oversaw the creation of Dickinson's first post-graduate program in conjunction with the U.S. Army War College in human security and humanitarian response. She was also instrumental in the work of the Carlisle Community Action Network and its response to the COVID-19 pandemic.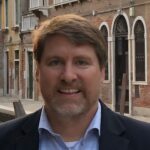 Andrew Wolff is an associate professor of political science and international studies at Dickinson College. He holds a B.A. in politics and European history from Washington and Lee University (1995), a M.A. in European studies from Johns Hopkins University's School of Advanced International Studies (2003), and a Ph.D. in international relations from Johns Hopkins University's SAIS (2010). Most recently, Wolff has been an associate fellow at Johns Hopkins University SAIS – Europe in Bologna, Italy (2020-2021) and a Fulbright NATO Security Studies scholar hosted by the College of Europe in Bruges, Belgium (Fall 2021).  Wolff's primary research interests are NATO enlargement, European security issues, and American foreign policy. He is currently writing a book on multi-layered decision-making in Europe.
Video of the Presentation