Pennsylvania State University
Joseph Priestley Award Celebration Lecture
The Good News on Energy, Environment and Our Future
Tuesday, September 26, 2017
Anita Tuvin Schlechter Auditorium, 7 p.m.
Humans have burned trees, whales, and now fossil fuels far faster than they grew back, enjoying the energy but suffering the environmental impacts and then shortages. Now, we are the first generation that can build a sustainable energy system, improving the economy, employment, environment, ethics, and national security.
The Joseph Priestley Award recipient is chosen by a different science department each year. The Department of Earth Sciences has selected this year's recipient. The event is supported by the College's Priestley Fund and is sponsored by the Clarke Forum for Contemporary Issues and co-sponsored by the departments of biology, chemistry, earth sciences, environmental studies, mathematics & computer science, psychology, and physics & astronomy.
Biography (provided by the speaker)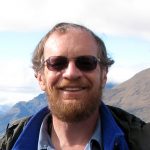 Richard Alley (Ph.D. 1987, Geology, Wisconsin) is Evan Pugh University Professor of Geosciences at Penn State.  He studies the great ice sheets to help predict future changes in climate and sea level, and has conducted three field seasons in Antarctica, eight in Greenland, and three in Alaska.  He has been honored for research (including Read more