Virtual program on YouTube live, 7 p.m.
Morgan Lecture
Bearing Witness While Black: African Americans, Smartphones, and the Fight to Preserve Our Democracy — One Video at a Time
Allissa Richardson, University of Southern California
Richardson will share how Black smartphone witnesses of the last five years launched the largest social justice movement in American history. In her new book, Bearing Witness While Black: African Americans, Smartphones and the New Protest Journalism, she explains why we cannot ignore the mobile testimonies of the afflicted — and what is at stake when we do.
The program is sponsored by the Clarke Forum for Contemporary Issues and the Morgan Lecture Fund and cosponsored by the Center for Civic Learning & Action; the Popel Shaw Center for Race & Ethnicity; the Women's & Gender Resource Center; and the departments of English; math and computer science; women's, gender & sexuality studies; Middle East studies, American studies, history and sociology.  This program was initiated by the Clarke Forum's student project managers.
Topic overview by Rebecca Fox '22
Biography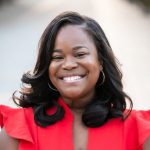 Dr. Allissa V. Richardson is an assistant professor of journalism at the University of Southern California's Annenberg School. She researches how African Americans use mobile and social media to produce innovative forms of journalism — especially in times of crisis. Richardson is the author of Bearing Witness While Black: African Americans, Smartphones and the New Protest #Journalism (Oxford University Press, 2020). The book explores the lives of 15 mobile journalist-activists who documented the Black Lives Matter movement using only their smartphones and Twitter, from 2014 to 2018.
Richardson's research is informed by her award-winning work as an instructor and journalist. She is considered a pioneer in mobile journalism (MOJO), having launched the first smartphone-only college newsroom in 2010. The MOJO Lab, based on the campus of Morgan State University in Baltimore, was the only American college to boast such a program at the time.
Richardson expanded the MOJO Lab curriculum throughout the continent of Africa, creating classes for allied nonprofit organizations in Morocco and South Africa. The National Association of Black Journalists (NABJ) said Richardson empowered her students around the globe "to speak truth to power using new media." NABJ recognized her as its 2012 Journalism Educator of the Year for her international work. Apple, Inc. inducted Richardson into its elite Distinguished Educator program for her innovative uses of its products the following year. She is also a recipient of two prestigious Harvard University posts: the Nieman Foundation's Visiting Journalism Fellowship and the Law School's Berkman Center for Internet & Society Fellowship.
Richardson's research has been published in Journal of Communication, Digital Journalism, Journalism Studies, The Black Scholar and many other venues. She has lectured to diverse and wide-ranging audiences around the world—from SXSW to SnapChat, Microsoft and the NFL. Her expertise in mobile media activism has made her a frequent commentator for news outlets such as ABC, BBC, CBC, Columbia Journalism Review, Los Angeles Times, MSNBC, NPR, Teen Vogue and Vox. Richardson is also a sought-after educational technology consultant who has designed courses for Google, YouTube and PBS.
Richardson serves on the editorial boards of Digital Journalism and the International Journal of Communication. She is an affiliated researcher with New York University's Center for Critical Race and Digital Studies (CR + DS) also.
Richardson holds a Ph.D. in journalism studies from the University of Maryland College Park; a master's degree in magazine publishing from Northwestern University's Medill School; and a bachelor of science in biology from Xavier University of Louisiana, where she was named a "Top 40 Under 40" alumna.
Morgan Lectureship
The Morgan Lectureship was endowed by the board of trustees in 1992, in grateful appreciation for the distinguished service of James Henry Morgan of the Class of 1878, professor of Greek, dean, and president of the College. The lectureship brings to campus a scholar in residence to meet informally with individuals and class groups, and to deliver the Morgan Lecture on topics in the social sciences and humanities. Scholars have been Jorge Luis Borges, Francis Fukuyama, Michael Ignatieff, Samantha Power, Art Spiegelman, Sandra Steingraber, Kay Redfield Jamison, Patricia Hill Collins, Winona LaDuke, Lila Abu-Lughod, Roxanne Dunbar-Ortiz and Anthony Appiah.
Video of the Presentation