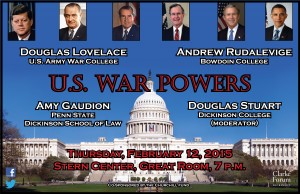 Thursday, February 12, 2015
Stern Center, Great Room, 7 p.m.
Panelists:
Amy Gaudion, Penn State Dickinson School of Law
Douglas Lovelace, United States Army War College
Andrew Rudalevige, Bowdoin College
Douglas Stuart (moderator), Dickinson College
Following the beheading of two Americans, the Obama Administration unleashed an air war against the Islamic State, also known as ISIS, without a declaration of war or any explicit congressional authority. This panel will explore domestic and international legal and political questions related to recent and current U.S. military operations.
The program is sponsored by the Clarke Forum for Contemporary Issues and co-sponsored by the Churchill Fund and the Department of Political Science.
Biographies (provided by the panelists)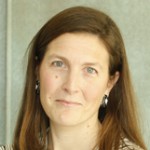 Amy Gaudion is the assistant Dean for Academic Affairs at Penn State Dickinson School of Law. Gaudion's scholarly and teaching interests focus on national security and constitutional law. She also serves as a legal advisor to World on Trial, a public television and multimedia project. Prior to joining Penn State she was an associate with Hangley Aronchick Segal & Pudlin, where her practice focused on antitrust and complex litigation matters, and a clerk for the Honorable William H. Yohn of the U.S. District Court for the Eastern District of Pennsylvania. She earned a J.D. from the Villanova University School of Law, receiving summa cum laude and Order of the Coif honors, and B.A. from the University of Virginia, graduating with distinction.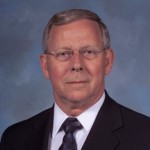 Douglas C. Lovelace, Jr., is the director of the U.S. Army War College Strategic Studies Institute and held the U.S. Army War College Douglas MacArthur Professor of Research Chair. He served as a strategist with the Joint Staff in the Pentagon, where he collaborated in the development of documents such as the National Security Strategy, National Military Strategy, the Joint Strategic Capabilities Plan, the Joint Military Net Assessment, national security directives, and presidential decision directives. Subsequently, he was appointed director of Military Requirements and Capabilities Management at the U.S. Army War College. He later served as chairman of the Strategic Research Department of the Strategic Studies Institute, until his appointment as the Director. He holds a juris doctorate degree from Widener University School of Law, a master of science degree in businessadministration and a bachelor of science degree from Embry Riddle Aeronautical University. He is a graduate of the University of Chicago Program in Social and Behavioral Sciences, the U.S. Army Command and General Staff College, and the National War College. He has published extensively in the areas of national security and military strategy formulation, future military requirements, civil-military relations, and strategic planning and is a member of the Pennsylvania Bar.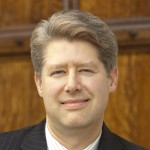 Andrew Rudalevige is Thomas Brackett Reed Professor of Government at Bowdoin College. A former city councilor and State Senate staffer in his native Massachusetts, Rudalevige received his B.A. from the University of Chicago and his M.A. and Ph.D. from Harvard University. His books include Managing the President's Program (Princeton, 2002), which won the national Neustadt prize for best book on the presidency and The New Imperial Presidency: Renewing Presidential Power after Watergate (Michigan, 2005); he writes frequently on national politics as a contributor to "The Monkey Cage" blog on the Washington Post website. Before moving to Bowdoin, Rudalevige taught at Dickinson College and the University of East Anglia in England.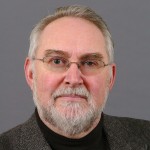 Douglas Stuart is the first holder of the J. William and Helen D. Stuart Chair in International Studies at Dickinson College and is also an adjunct research professor at the U.S. Army War College. He is the author, co-author or editor of ten books, four monographs, and over 30 published articles dealing with international affairs. His areas of research interest include: The history of the U.S. national security bureaucracy; proposals for reform of the U.S. national security bureaucracy; U.S. civil-military relations, and Asia-Pacific security. His publications include Creating The National Security State (Princeton University Press), The Limits of Alliance (with William Tow, Johns Hopkins University Press), and Organizing for National Security (editor, U.S. Army War College, Strategic Studies Institute). A former NATO Fellow and State Department Scholar Diplomat, Professor Stuart has also been a visiting scholar at the Brookings Institution (Washington, D.C.), the IISS (London), George Washington University (Washington, D.C.), and the Australian National University (Canberra). He is the recipient of both the Dickinson Distinguished Teaching Award and Dickinson's Ganoe Prize for Inspirational Teaching. He received his Ph.D. in International Relations from the University of Southern California.
Video of the Lecture