Anita Tuvin Schlechter Auditorium, 5 p.m.
Joseph Priestley Award Celebration Lecture
How Duolingo Uses AI to Assess, Engage and Teach Better
Luis von Ahn, Co-Founder and CEO of Duolingo
Duolingo is the most popular way to learn languages in the world. With over half a billion exercises completed every day, we have the largest dataset of people learning languages ever amassed. In this talk, I will describe all the different ways in which we use AI to improve how well we teach and how to keep our learners engaged.
The Joseph Priestley Award recipient is chosen by a different science department each year. The Department of Mathematics & Computer Science have selected this year's recipient. The event is supported by the College's Priestley Fund and is sponsored by the Clarke Forum for Contemporary Issues and co-sponsored by the departments of biology, chemistry, earth sciences, environmental studies, mathematics & computer science, psychology, and physics & astronomy and the Churchill Fund.  It is part of the Clarke Forum's Leadership in an Age of Uncertainty Series.
Topic overview written by Logan Cort '22
Biography (provided by the speaker)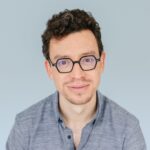 Luis von Ahn is an entrepreneur and former computer science professor at Carnegie Mellon University who is considered one of the pioneers of crowdsourcing. He is known for co-inventing CAPTCHAs, being a MacArthur Fellow, and selling two companies to Google in his 20s.
He is currently the co-founder and CEO of Duolingo (NASDAQ: DUOL), a language-learning platform created to bring free language education to the world. With over 500 million users, it is now the most popular way to learn languages and the most downloaded education app in the world.
Von Ahn has been named one of the 10 Most Brilliant Scientists by Popular Science Magazine, one of the 50 Best Brains in Science by Discover, one of the Top Young Innovators Under 35 by MIT Technology Review, one of the 100 Most Innovative People in Business by Fast Company Magazine, and in 2018 won the Lemelson-MIT Prize.
Joseph Priestley Lecture
The Joseph Priestley Award is presented by Dickinson College in memory of Joseph Priestley, discoverer of oxygen, to a distinguished scientist whose work has contributed to the welfare of humanity. The award, first presented in 1952, recognizes outstanding achievement and contribution to our understanding of science and the world.
Video of the Presentation