Anita Tuvin Schlechter Auditorium, 7 p.m.
Political Prisoners and Free Speech in Cuba
Jorge Olivera Castillo,
City of Asylum     
Nancy Alfaya Hernandez, Activist & Artist
Castillo will discuss censorship in Cuba and share his experiences working both in government media and against it. He began to write literature as a political prisoner in Cuba's Guantanamo Prison in 2003. He will speak about his experience in prison and solitary confinement. After the Ladies in White protest movement organized for release of Black Spring prisoners, he was released in 2004. He and his wife, Nancy Alfaya Hernandez, continued to work as activists for freedom and democracy in Cuba while facing repression from the political police. Castillo will give information about activists and artists working to bring freedom to Cubans and the risks they face. He will share about his new writings, including a book based on his experiences as a veteran of the Angolan Civil War at 19 years old. In addition, Castillo will read political poems in Spanish with English subtitles.
This program is sponsored by the Clarke Forum for Contemporary Issues and co-sponsored by the departments of Spanish & Portuguese studies; and Latin American, Latinx & Caribbean studies. It is part of the Clarke Forum's Leadership in an Age of Uncertainty Series.
Topic overview written by Sofia Perrone '25
Poetry Reading with Jorge Olivera Castillo
Friday, October 7 from 12:00 – 1:00 p.m.
Stafford Reading Area inside the Waidner Spahr Library
Biographies (provided by the speakers)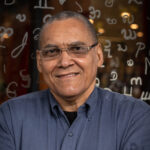 Jorge Olivera Castillo is a Cuban poet, writer, television editor, journalist, and songwriter. He is a well-known dissident, and his work has been banned in Cuba. Jorge has published six books of poetry and two short story collections in Spanish. His works have been translated into several languages, including Czech, English, Italian, and Polish. Jorge recently finished two books: a book of poetry and his third collection of short stories based on his experiences as a soldier in the African jungle during the Angolan Civil War. He is married to Nancy Alfaya Hernandez, a Cuban human and women's rights activist. He and Nancy have been in residence at City of Asylum since November 2021. Jorge was formerly a Scholar-at-Risk at Harvard University, Brown University, and University of Nevada Las Vegas.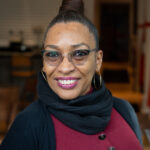 Nancy Alfaya Hernandez is a Cuban activist and artist. Nancy is a founder of the Ladies in White (Damas de Blanco) movement that organized for the release of political prisoners during Cuba's Black Spring in 2003. From 2004-2014, Nancy was the community project leader for "Mujer No Dejes Tu lugar" (Woman Don't Leave Your Place) to fight against domestic violence. From 2014-2018, Nancy served as Coordinator for the Women's Network for Equality with the Citizen Committee for Racial Integration (CIR) to advocate for women's rights and empowerment and against violence and discrimination with a focus on women of African descent in Cuba. Nancy is currently in residence at City of Asylum Pittsburgh with her husband Jorge Olivera Castillo.
Related Links
Poetry (Brooklyn Rail)
Alive or Dead (Words Without Borders)
Epidemic (The Harvard Advocate)
Shots in the Dark (The Los Angeles Review)
 Video of the Presentation