Virtual Presentation via Zoom in Anita Tuvin Schlechter Auditorium (ATS), 7 p.m.
Vice Patrol: Revisiting the Policing of Gay Life Before Stonewall
Anna Lvovsky, Assistant Professor of Law at Harvard Law School
In the mid-twentieth century, gay life flourished in American cities even as the state repression of queer communities reached its peak. This lecture examines the tactics used to criminalize and suppress gay life from the 1930s through the 1960s, and the often-surprising debates those campaigns inspired in court—debates over not just the law's treatment of queer people, but also the limits of ethical policing, the authority of experts, and the nature of sexual difference itself.
This program is sponsored by the Clarke Forum for Contemporary Issues and co-sponsored by the Office of LGBTQ Services, the Women's & Gender Resource Center, the Department of American Studies and the Law & Policy Program.
Topical overview written by Marina Stylianou '24
Biography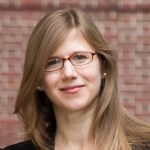 Anna Lvovsky is an assistant professor of law at Harvard Law School, where her scholarship focuses on the legal and cultural dimensions of policing, judicial uses of professional knowledge, and the regulation of gender and sexuality. Her first book, Vice Patrol: Cops, Courts, and the Struggle Over Urban Gay Life Before Stonewall, examines the daily realities and legal contests surrounding the policing of gay communities in the mid-twentieth century. At Harvard Law School, she teaches courses on evidence, criminal law, American legal history, and the history of policing. Previously, she was an academic fellow at Columbia Law School and clerked for Judges Michael Boudin of the 1st U.S. Circuit Court of Appeals and Gerard E. Lynch of the 2nd U.S. Circuit Court of Appeals. She received her B.A. from Yale University, her J.D. from Harvard Law School, and her Ph.D. in the history of American civilization from Harvard University.
Video of the Presentation