Exonerated Death Row Inmates
Innocent on Death Row: The Story of Sunny and Peter
Tuesday, September 27, 2016
Anita Tuvin Schlechter Auditorium, 7 p.m.
Two former death row inmates will discuss how they work together promoting human rights and in opposition to injustice and the death penalty.
This program is sponsored by the Clarke Forum for Contemporary Issues and Penn State's Dickinson Law and co-sponsored by the Division of Student Life, the Department of Sociology and the Program in Policy Studies. It was also initiated by the Clarke Forum Student Project Managers.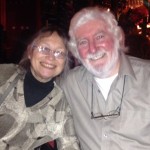 Biographies (provided by the speakers)
Sonia "Sunny"Jacobs was wrongfully tried, convicted and sentenced to death in Florida, USA in 1976. She spent five years under sentence of death in solitary confinement before her death sentence was overturned. Her practice of yoga and meditation sustained her through her ordeal. She then spent a further 12 years among the general prison population to whom she began to teach yoga. Her partner, Jesse Tafero, who was also wrongfully convicted and sentenced to death was executed on fourth of May 1990, two years before evidence of their innocence was made known. With the help of lawyers who worked for many years without pay and friends who assisted them in the research, Sunny had her conviction overturned in 1992 and achieved her liberty.
Peter Pringle was wrongfully prosecuted tried and convicted of capital murder and robbery by the nonjury Special Criminal Court in Dublin, Ireland, in 1980. He was sentenced to death and to 15 years imprisonment. In 1981, his death sentence was commuted to 40 years penal servitude without remission. He practiced yoga and meditation while in prison which provided the means with which he was able to maintain his sanity and well-being. As a result, he was able to study law and prepare his case under the Irish Constitution. He opened his case in the High Court in Dublin in January 1992 representing himself. In 1994, with the help of a pro bono human rights lawyer, his case was brought before the Court of Criminal Appeal and his convictions were quashed in May 1995 and he won his freedom.