Head Lacrosse Coach, William Smith College
Title IX: Conception, Progression, Direction
Monday, September 24, 2012
Anita Tuvin Schlechter Auditorium, 7:00 p.m.
In 1972, Congress enacted Title IX, which prohibited sexual discrimination in any education program or activity that received federal financial assistance. Coach Genovese will explore the origin of Title IX; the advances and setbacks that have occurred in athletics since its enactment; and where it will take us in the future.
This event is sponsored by the Clarke Forum for Contemporary Issues and co-sponsored by the Department of Athletics, Office of Institutional and Diversity Initiatives, and the Women's Center. It is also part of the Clarke Forum's Leadership in an Age of Uncertainty Series.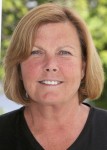 Pat Genovese's Biography