Professor of English, University of Pennsylvania
Gay Marriage and Its Others
Thursday, September 13, 2012
Stern Center, Great Room, 7:00 p.m.
This lecture considers the fate of the spinster in the era of gay marriage. Through a reading of the 2006 film Notes on a Scandal, Love argues that, while monogamous gay and lesbian couples have achieved unprecedented levels of social acceptability, those who are alone or whose intimacies are unconventional are more stigmatized than ever. Read more
The event is sponsored by the Clarke Forum for Contemporary Issues and co-sponsored by Women's and Gender Studies.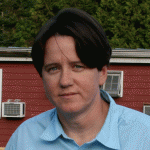 Biography
Heather Love is the R. Jean Brownlee Term Associate Professor at the University of Pennsylvania, where she teaches interests include gender studies and queer theory, the literature and culture of modernity, affect studies, film and visual culture, psychoanalysis, race and ethnicity, sociology and literature, disability studies, and critical theory. She is the author of Feeling Backward: Loss and the Politics of Queer History (Harvard, 2007), the editor of a special issue of GLQ on the scholarship and legacy of Gayle Rubin ("Rethinking Sex"), and the co-editor of a special issue of New Literary History ("Is There Life after Identity Politics?"). She has recent and forthcoming essays on transgender fiction, spinster aesthetics, comparative social stigma, and description as method in the humanities and the social sciences. She is currently working on a book on the source materials for Erving Goffman's 1963 book, Stigma: On the Management of Spoiled Identity ("The Stigma Archive").  Biography at UPenn.
Video of the Program