Founder and President, Arch of Leadership; Metzger-Conway Fellow
Leading Greatly: Why a Liberal Arts Education Matters
Wednesday, April 20, 2011 *
Stern Center, Great Room, 7:00 p.m.
Great leaders tap into people's diverse aspirations and forge collaborations in pursuit of visions that invigorate the human endeavor. Many kinds of creative efforts are needed when the challenge is daunting. A leader with a liberal arts education is prepared to recognize, appreciate and harness a diversity of creative talents, which increases the likelihood of success.
* This event is part of The Clarke Forum's series on Leadership in an Age of Uncertainty.
Topical Background (provided by the speaker)
Dr. Shenkman has devoted his life to studying people who have accomplished great things for the human endeavor. This search began in earnest during his time at Dickinson College from 1960 – 1964. His studies, especially in philosophy, but also in religion, history, literature and science and his work as an organizational consultant, led him to this conclusion: It takes many kinds of aspirations, diverse talents and divergent lifeways to put a new and great endeavor on the map. A liberal arts education provides leaders with insights into this necessary diversity, opening the way for great experiments and collaborations. There is no substitute — not technical genius, not wheelbarrows full of money — for what a liberal arts education provides. Among the abilities honed by a liberal arts education are: the ability to perceive the value in the different lives that people offer, the ability to detect the dangers and limitations of narrow perspectives, the ability to find value in mixing people together for optimal collaboration, the ability to imagine, articulate a great story and use it to inspire the greatness that will be needed for the great challenges that lie ahead.
More than a decade ago, Dr. Shenkman has engaged in what he calls "The Breakout Creatives Project" in which he has studied how to mentor people who devote their lives to invigorating the human endeavor through adopting the roles of Mystic, Artist, Prophet and Leader. In this presentation he will show that the Liberal Arts Education provides the foundation by which leaders in all walks of life can appreciate and build on the works of these creative initiators.
Biography (provided by the speaker)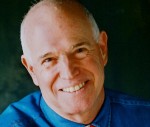 Michael H. Shenkman, Ph.D., is founder and president of the Arch of Leadership, a leader mentoring company. Dr. Shenkman developed the Arch of Leadership program based on extensive research and more than 20 years of consulting experience and acting as executive coach and mentor. He holds a Ph.D. from Boston College and a BA from Dickinson College. He has taught at The Management Development Center of the University of New Mexico, Boston Architecture College. His on-line leader mentoring program is now used by Boston Architectural College in its Distance Learning Program.
Shenkman is a pioneer in this field. His leader mentoring program is among the first fully developed mentoring curriculum being offered to colleges, businesses and service organizations. Shenkman has developed leader mentoring into a high level advancement practice. His methodology helps aspiring executives to fully enter and commit to the life of creative leading in order to build organizational value, inspire success and enhance quality of life. Dr. Shenkman and his cadre of trained associates have mentored more than 500 prospective leaders in major corporations, community settings and at Sandia National Laboratories.
Leader mentoring is part of a larger project in which Dr. Shenkman is developing specific mentoring regimens for other creative figures, including mystics, artists and prophets. The intention is to provide support and guidance to all those who are dedicated to advancing the creative sprit.
Dr. Shenkman has published four books on organizational excellence, including two on leading: The Arch and the Path: The Life of Leading Greatly, and Leader Mentoring: Find, Inspire and Cultivate Great Leaders. Descriptions of this work can be found at www.breakoutcreatives.net.
Video of the Program