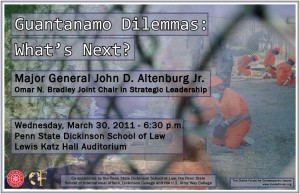 Omar N. Bradley Joint Chair in Strategic Leadership
Guantanamo Dilemmas: What's Next?
Wednesday, March 30, 2011 *
Penn State Dickinson School of Law
Lewis Katz Hall Auditorium, Carlisle
6:30 p.m.
Major General John D. Altenburg, Jr, this year's Omar N. Bradley Joint Chair in Strategic Leadership, will discuss the ethical, policy (both foreign and domestic), and legal dilemmas regarding detention, rendition, interrogation, and the use of military commissions in the ongoing war against al Qaeda and associated groups.
Following opening remarks, General Altenburg will respond to questions posed by two experts, Dr. Jeffrey D. McCausland, a senior fellow at the Carnegie Council and retired U.S. Army Colonel, and Dr. Harold L. Pohlman, the A. Lee Fritschler Professor of Public Policy and executive director of The Clarke Forum for Contemporary Issues at Dickinson College. After fielding questions from the interviewers, General Altenburg will take questions from the audience.
The event is co-sponsored by Dickinson College, Penn State Dickinson School of Law, the Penn State School of International Affairs, and the United States Army War College.
The Omar Bradley Chair is a joint initiative of the United States Army War College, Dickinson College, and Penn State Law to advance the study of strategic leadership and enhance civilian-military dialogue by offering distinguished individuals the opportunity to contribute to the educational and research activities of the three institutions.
This event is also part of The Clarke Forum's series on Leadership in an Age of Uncertainty.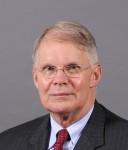 Biography (provided by the speaker)
A principal with the Washington D.C. office of the international law firm Greenberg Traurig (1750 lawyers in 31 offices), General Altenburg was a consultant on Ethics and Business Conduct to the President, World Bank Group before joining Greenberg Traurig in November 2002. He took a leave of absence (March 2004-November 2006) to serve as the Appointing Authority for Military Commissions where he exercised discretion to approve or disapprove charges for alleged war crimes, to refer appropriate cases to trial by Military Commission, and to determine whether cases would be referred capital or not. He supervised the Office of the Appointing Authority, serving in this capacity as a civilian. His current practice focuses on corporate governance, investigations, business ethics and contract litigation.
His experience in both Military Justice and Operations Law includes either service or legal oversight in Vietnam (1969-1970, 9th Infantry Division), Special Operations (1974-1978, 5th Special Forces Group), Operation Desert Storm-Iraq (1990-1991, 1st Armored Division), Operation Restore Hope-Somalia (1992-1993, XVIII Airborne Corps), Operation Uphold Democracy-Haiti (1994, Joint Task Force 180), Operations Joint Endeavor/Guard-Bosnia and Joint Guardian-Kosovo (1995-2001, Army Staff). From 1997 to 2001, he was The Deputy Judge Advocate General of the Army and Designated Senior Ethics Official for the Army.
His seven years trial experience as prosecutor and defense lawyer (460 felony cases, 260 jury trials included 25 homicides, 1 capital) and foreshadowed an additional six years supervising felony prosecutions in Germany and the United States (more than 700 cases, several capital); numerous high-profile cases among them and extensive experience teaching and lecturing advocacy and litigation skills. General Altenburg was considered a consummate trainer because of numerous advocacy initiatives and products, including a training film on NCO Authority that was required viewing at all Army Noncommissioned Officer Schools for more than eight years.
He has lectured frequently in Europe, Asia, Latin America, and numerous U.S. law schools on topics as diverse as leadership and mentoring, trial advocacy, legal aspects of peacekeeping and combat operations, and other national security issues. He was the U.S. Representative on the Experts Panel at the International Institute of Humanitarian Law in San Remo, Italy. He is the General of the Army Omar N. Bradley Chair for Strategic Leadership for Academic Year 2010-2011 in Carlisle, Pennsylvania.
The Bradley Chair was established in 2002 as a joint chair offering a visiting scholar the opportunity to encourage civilian-military dialogue and share lessons on leadership, globalization, technology and cultural change with students and faculty at the Army War College, Dickinson College, and Penn State University's Dickinson College of law. The Chair is sponsored by Dickinson College, Penn State Dickinson School of Law , and the Army War College and supported by the Army War College Foundation. He co-authored "Terrorism, State Responsibility, and the Uses of Military Force" in the Chicago Journal of International Law, Spring 2003, authored "Rhetoric or Reality: Winning the Battle of Ideas" in the Barry Law Review, Fall 2006, and "Just Three Mistakes!" in the Case Western Reserve Journal of International Law, Winter 2009.
Mr. Altenburg earned a BA in English and International Studies from Wayne State University, a JD from the University Of Cincinnati College Of Law, and an MMAS in History from the U.S. Army Command and General Staff College (CGSC). A graduate of the National War College, his decorations include the Distinguished Service Medal, Legion of Merit (2), Bronze Star Medal (2), Master Parachutist Badge, Combat Diver's Badge, and Special Forces Tab.