Executive Director, First Five Years Fund
Same-Sex Marriage & the Supreme Court: A Plaintiff's Story
Monday, April 8, 2013
Anita Tuvin Schlechter Auditorium, 7:00 p.m.
In May 2009, two California couples—Kris Perry and Sandy Stier of Berkeley, and Paul Katami and Jeff Zarrillo of Burbank—filed a lawsuit in federal court challenging California's Proposition 8 under the Fourteenth Amendment to the United States Constitution. Represented by distinguished attorneys Theodore B. Olson and David Boies, who famously faced-off in Bush v. Gore, the plaintiffs and their case, now known as Hollingsworth v. Perry, have forever changed America's legal and political landscape surrounding marriage equality.
On March 26, 2013, the Supreme Court of the United States heard oral argument in Perry to review the judgment of the federal court of appeals that upheld the decision of the federal district court that found Proposition 8 unconstitutional. A decision from the Supreme Court, which is expected by June 2013, could result in marriage equality nationwide.
In this lecture, Kris Perry will discuss her personal experience as one of the plaintiffs in this landmark civil rights lawsuit. From testifying at trial and watching oral argument at the Supreme Court, to seeing her twin boys go through high school during the case, to being represented by the nation's top lawyers, Perry will provide an intimate, first-hand account of the case that bears her name—and what she hopes the future holds for marriage equality in America.
The Clarke Forum for Contemporary Issues sponsored and planned this event in partnership with the Student Senate Public Affairs Committee.  It is also part of The Clarke Forum's Leadership in a Age of Uncertainty Series.
Biography (provided by the speaker)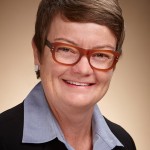 Kris Perry and Sandy Stier have been together for 13 years and are the parents of four boys. Perry is executive director of the First Five Years Fund, a national organization dedicated to improving American education, health and economic productivity through investments in quality early childhood education programs for disadvantaged children. She holds a BA from University of California, Santa Cruz and an M.S.W. from San Francisco State University. Stier is the director of information systems for the Alameda County Health Care Services Agency. She is originally from Iowa, a graduate from the University of Iowa, with an MPA from Golden Gate University.
Relevant Links
How AFER Fights for Marriage Equality  and "8" Los Angeles
Interview for WDCV Radio
Video of the Lecture