Professor, University of Havana
U.S. Role and Image in the World: A Cuban's Perspective
Tuesday, April 9, 2013 (rescheduled from November 27, 2012)
Stern Center, Great Room, 7:00 p.m.
This lecture focuses on the paradoxes that characterize U.S. role and image in the world: U.S. culture, technological development, civil society, economic influence and military power will be discussed and evaluated.
This event is sponsored by the Clarke Forum for Contemporary Issues and the Center for Global Study and Engagement and co-sponsored by the Departments of Economics and Spanish & Portuguese.
Biography (provided by the speaker)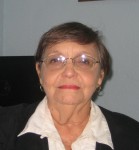 Beatriz Diaz is a full professor at the University of Havana, and at the Cuban Program of the Latin American Social Sciences Faculty (FLACSO). She was the director of the Cuba FLACSO Program (2001-2008) and at present chairs the research group on Rural Development and the Environment at FLACSO. She obtained her BA in psychology at the University of Havana, followed by graduate work at the University of Paris X and Geneva. She obtained her Ph.D. at the Soviet Academy of Educational Sciences in Moscow.
Her main research interests focus on Cuban Social Development and Sustainable Development. She has conducted research on rural, urban and coastal communities in Cuba and in Venezuela, focusing on social development and social policies that may enhance social equity and social participation. She is a current consultant to several Cuban ministries and research institutions. Dr. Diaz chairs the Canadian Studies Center at the University of Havana and is a member of the International Council of Canadian Studies.
She is currently teaching courses on Environment and Development, Social Development, and Social Research Methodology. Dr. Beatriz Diaz created in 2000 a Master Program on Co-operatives' Management and Development and acts as its Academic Coordinator. This Master Program was recently updated taking into account economic changes taking place in Cuba, which give a greater place to co-operatives. The Master Program 4th edition began in March, 2012. Dr. Diaz has given lectures at various universities in Latin America, Canada, and the United States.
Professor Diaz has published two books and several articles in Cuba, Mexico, Spain, Sweden, the United States and Venezuela. She has taken part in and presented papers at scientific conferences and seminars held in Brazil, Canada, Chile, Costa Rica, Greece, Guatemala, Mexico, Sweden. the Netherlands, and the United States. She has presented at numerous important conferences in Cuba in the last several years.
Dr. Diaz is fluent in English and French, and has basic proficiency in Russian, Portuguese and Italian. She has been honored with awards from the Ministry of Higher Education, the Academy of Sciences, and has received recognitions from various other Cuban Institutions.
Current research interest: social policies and social development in Latin American countries after the crisis, focusing on Cuba and Venezuela.
Video of the Lecture