Professor, Washington University
Linguistic Relativism: Language, Culture, and Thought
Thursday, November 20, 2014
Stern Center, Great Room, 7 p.m.
This presentation draws upon evidence from linguistics, anthropology, and psychology to explore the ways in which human language and corresponding thought processes have been influenced by cultural circumstances.
This event is sponsored by the Clarke Forum for Contemporary Issues and co-sponsored by the Departments of English, American Studies, Spanish and Portuguese.  This program is also part of the Clarke Forum's semester theme, Language.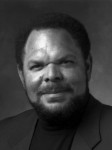 Biography (provided by the speaker)
John Baugh is the Margaret Bush Wilson Professor in Arts & Sciences and former director of African and African American studies at Washington University in St. Louis, where he holds academic appointments in psychology, anthropology, education, English, linguistics, African and African American studies, American culture studies, philosophy-neuroscience-psychology and urban studies. Prior to his tenure at Washington University, Dr. Baugh taught at Stanford University, The University of Texas at Austin, and Swarthmore College.
Dr. Baugh has published award-winning books in the fields of anthropology, education, legal affairs, linguistics, sociology and urban studies. His work bridges theoretical and applied linguistics, with particular attention to matters of policy and social equity in the fields of education, medicine, and the law. He has conducted extensive research regarding the social stratification of linguistic diversity within the United States, Austria, Brazil, France, Hungary, South Africa, and the United Kingdom, and is actively engaged in ongoing research that examines the evolution and dissemination of English and other European languages in post-colonial contexts throughout the world.
Dr. Baugh is a past president of the American Dialect Society and is a member of the usage advisory committee for the American Heritage English Dictionary. He has also served as consultant on several documentary films related to American language and as an expert witness in court cases where matters of voice recognition and language attitudes have been central.
Dr. Baugh received his B.A. in speech and rhetoric at Temple University and his M.A. and Ph.D. in linguistics at the University of Pennsylvania. He currently sits on the boards of The Oracle Education Foundation, Raising a Reader, and Project Pericles.
Related  Links
Web Links:
Home page: http://pages.wustl.edu/johnbaugh
Do you speak American?:  http://www.youtube.com/watch?v=EPGx1icFdLQ
Linguistic Profiling:  http://www.youtube.com/watch?v=KYHRiw1OHiE
Video of the Lecture