American University
Women on the Run
Wednesday, October 5, 2016
Stern Center, Great Room, 7 p.m.
A widely held belief – often encouraged by politicians and political commentators – is that that the political landscape is more challenging for women. Lawless argues that, for the most part, it's not. When women run for office, they have very similar experiences to men. The problem is that women don't run in the first place.
This event is sponsored by the Clarke Forum for Contemporary Issues and the Women's and Gender Resource Center and co-sponsored by the Churchill Fund. It is also part of the Clarke Forum's Leadership in an Age of Uncertainty Series and the stream on the 2016 Presidential Election.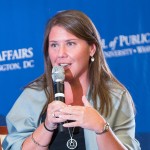 Biography (provided by the speaker)
Jennifer L. Lawless is professor of government at American University, where she is also the director of the Women & Politics Institute. She received her Ph.D. in political science from Stanford University in 2003 and her B.A. from Union College in 1997. Professor Lawless' research, which has been supported by the National Science Foundation, focuses on representation, political ambition, and gender in the electoral process.
Lawless is the author of Becoming a Candidate: Political Ambition and the Decision to Run for Office (Cambridge University Press, 2012) and the co-author of Women on the Run: Gender, Media, and Campaigns in a Polarized Era (Cambridge University Press, 2016), Running from Office: Why Young Americans Are Turned Off to Politics (Oxford University Press, 2015), and It Still Takes a Candidate: Why Women Don't Run for Office (Cambridge University Press, 2010). Her work has appeared in academic journals including the American Political Science Review, American Journal of Political Science, Perspectives on Politics, Journal of Politics, Political Research Quarterly, Legislative Studies Quarterly, and Politics & Gender (of which she served as editor from 2010 – 2013). She is also a nationally recognized speaker on electoral politics. Her scholarly analysis and political commentary have been quoted in numerous newspapers, magazines, television news programs, and radio shows, including the New York Times, the Wall Street Journal, the Washington Post, USA Today, The New Republic, the Chronicle of Higher Education, the Associated Press Newswire, Reuters, The Last Word with Lawrence O'Donnell, The Situation Room with Wolf Blitzer, the CBS Evening News, ABC World News Tonight, CNN.com, and MSNBC.com. In 2006, she sought the Democratic nomination to the U.S. House of Representatives in Rhode Island's second congressional district.