Award-Winning Author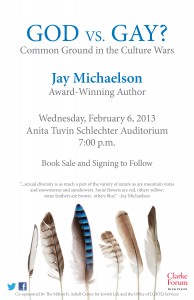 God vs. Gay? Common Ground in the Culture Wars
Wednesday, February 6, 2013
Anita Tuvin Schlechter Auditorium, 7:00 p.m.
A book sale and signing will follow
Are there ways to have better conversations about homosexuality and religion?  Michaelson, an award-winning LGBT religious activist, will move this conversation forward by discussing relevant biblical texts and "best practices."
This event is sponsored by The Clarke Forum for Contemporary Issues and co-sponsored by The Milton B. Asbell Center for Jewish Life and the Office of LGBTQ Services.
Biography (provided by the speaker)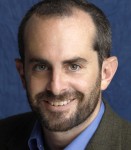 Jay Michaelson is the author of four books and two hundred articles on the intersections of religion, spirituality, sexuality, and law. His most recent book, God vs. Gay? The Religious Case for Equality (Beacon), was an Amazon.com bestseller and Lambda Literary Award finalist. Jay is a contributing editor to the Forward newspaper and associate editor of Religion Dispatches magazine, and his work has appeared in The Daily Beast, Salon, Newsweek, Tikkun, The Huffington Post, and other publications. Jay is also a longtime LGBT activist who has worked closely with HRC, GLAAD, and other organizations, and is the founder of Nehirim, a national LGBT Jewish community. Jay's advocacy on behalf of sexual minorities in religious communities has been featured on CNN, NPR, and in The New York Times.
In 2009, Jay was included on the Forward 50 list of influential American Jews, and in 2010 he won the New York Society of Professional Journalists' award for opinion writing. He received his J.D. from Yale Law School and will soon receive his Ph.D in Jewish Thought at the Hebrew University of Jerusalem, where he holds an M.A. in religion. Jay has held teaching positions at Boston University Law School, City College of New York, and Yale University.
Relevant Links
Jay Michaelson – God vs. Gay? The Religious Case for Equality (Book Trailer)
Jay Michaelson – If you're Queer and Jewish, Mazal Tov!
Video of the Program