Senior Editor, The Atlantic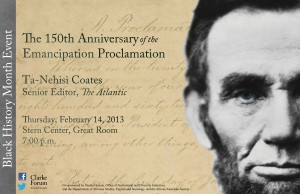 The 150th Anniversary of the Emancipation Proclamation
Thursday, February 14, 2013
Stern Center, Great Room, 7:00 p.m.
Reception will follow

One hundred fifty years after the Emancipation Proclamation, acclaimed writer Ta-Nehisi Coates explores the Civil War and its legacy for contemporary American social and racial dynamics.
The event is sponsored by The Clarke Forum for Contemporary Issues and co-sponsored by Student Senate, Office of Institutional and Diversity Initiatives, and the Departments of Africana Studies, English and Sociology.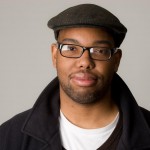 Biography (provided by the speaker)
Ta-Nehisi Coates is one of the most original and perceptive voices in black America — and one of America's best young writers, period." Walter Mosley calls him, "The young James Joyce of the hip hop generation." Eloquent, opinionated, and immediate, Coates writes about politics, race, black history and pop culture, often in the same stunning article. His critically hailed memoir, The Beautiful Struggle, is a tough and touching memoir of growing up in Baltimore during the age of crack. It's also a vivid portrait of his father, a former Vietnam Vet and Black Panther who started his own underground black press, had seven children with four women, and dedicated his life to carrying his sons across the shoals of inner city adolescence. It's already a stone cold classic.
A senior editor, writer and blogger for The Atlantic, Coates has penned many controversial and influential articles. Perhaps the most famous is "This is How We Lost to the White Man," a searingly honest look at the generational and ideological rifts in the black community. (Its title is a quote by Bill Cosby). Coates is a former writer for The Village Voice, and a contributor to TIME, O, and The New York Times Magazine. Rachel Maddow recently wrote, "Don't know, if in US commentary, there is a more beautiful writer than Ta-Nehisi Coates."