President, Institute for Women's Policy Research
Lifting the Floor and Achieving Gender Equality
Tuesday, February 28, 2012 *
Anita Tuvin Schlechter Auditorium, 7:00 p.m
Trends in women's labor force participation, the gender wage gap, and job segregation by sex indicate that women's progress has hit a plateau after improvement for several decades. Hartmann will discuss the policies that are needed to lift the floor of the labor market of women, resolve troubling work/family issues, and achieve gender equality between women and men.
The event is co-sponsored by The Clarke Forum for Contemporary Issues, the Churchill Fund, the Departments of Economics, Sociology, International Business and Management and the Women's Center.
* This program is part of the Clarke Forum's Leadership in an Age of Uncertainty Series.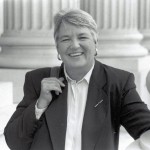 Biography (provided by the speaker)
Heidi Hartmann is the president of the Washington-based Institute for Women's Policy Research (IWPR), a scientific research organization that she formed in 1987 to meet the need for women-centered, policy-oriented research. She is an economist with a B.A. from Swarthmore College and M. Phil and Ph.D. degrees from Yale University, all in economics. Dr. Hartmann is also a research professor at The George Washington University.
Dr. Hartmann has published numerous articles in journals and books and her work has been translated into more than a dozen languages. She lectures internationally on women, economics, and public policy, frequently testifies before the U.S. Congress, and is often cited as an authority in various media outlets such as CNN, NBC News, The Washington Post, and The New York Times. She is a co-author of several IWPR reports including: Women's and Men's Employment and Unemployment in the Great Recession; Still a Man's Labor Market: The Long-Term Earnings Gap; The Impact of Social Security Reform on Women; Unnecessary Losses: Costs to Americans of the Lack of Family and Medical Leave; and Combining Work and Welfare: An Antipoverty Strategy. She is currently secretary/treasurer of the National Council of Women's Organizations (NCWO) and co-chair of NCWO's Task Force on Older Women's Economic Security (OWES). She has also served as an editor of several scholarly journals and is currently co-editor of the Journal of Women, Politics & Policy and a member of the editorial board of Feminist Economics. She serves on the board of directors of the American Academy of Political and Social Science.
Prior to founding IWPR, Dr. Hartmann was on the faculties of Rutgers University and the New School for Social Research and worked at the U.S. Commission on Civil Rights and the National Research Council/National Academy of Sciences, where she served as associate executive director of the Commission on Behavioral and Social Sciences and Education and contributed to numerous reports on women's employment issues, including Women, Work, and Wages: Equal Pay for Jobs of Equal Value and Computer Chips and Paper Clips: Technology and Women's Employment.
In 1994, Dr. Hartmann was the recipient of a MacArthur Fellowship for her work in the field of women and economics. She is also the recipient of an honorary Doctor of Laws degree from Swarthmore College, the Wilbur Cross Medal for distinguished alumni of the graduate school of Yale University, and an honorary Doctor of Humanities degree from Claremont Graduate University.
Video of the Program