Peter Bechtel '81, director, Andorinha Azul Ambiental, a company specializing in sustainable development
Ruth Mkhwanazi-Bechtel, program director, Vanderbilt University's Friends in Global Health in Mozambique
Sustainable Development in Mozambique
Wednesday, February 27, 2013
Stern Center, Great Room, 7:00 p.m.
For many years, Mozambique has been near the bottom of the UN Human Development Index, but recent discoveries of gas, coal, and mineral deposits have created opportunities for rapid economic development.  While the government places some importance on sustainability, there are ongoing problems related to transparency, top-down decision-making, urbanization and climate change.
The event is sponsored by The Clarke Forum for Contemporary Issues and co-sponsored by the Center for Global Study and Engagement, Center for Sustainability Education, Career Center, Department of Religion, Office of Institutional and Diversity Initiatives, Department of International Business and Management, Health Studies, Department of Environmental Studies, Community Studies Center and the Departments of Africana Studies, International Studies, Earth Sciences and Economics.
This event is also part of The Clarke Forum's Leadership in an Age of Uncertainty Series and the faculty seminar series titled, Living in a World of Limits.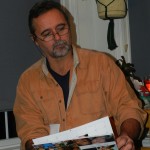 Biographies
Peter Bechtel '81, a graduate of Dickinson College, traveled to Africa with the US Peace Corps. He met his wife, bought a farm, and eventually acquired Mozambican nationality. He has worked in the development field for more than 30 years in Southern Africa, in rural development, nature conservation, and climate change.  He has seen the  devastating effects of climate change on coastal communities in East Africa and is concerned about developing resistance and resilience mechanisms not only for ecosystems but for livelihoods as well.
Peter Bechtel is an award winning ecotourism operator and has achieved the following:
1. Founder of three large national Parks/ Reserves.  The Quirimbas National Park, the Lake Niassa/Nyasa/Malawi Reserve, and the Primeiras and Segundas Archipelago Marine Reserve.  He organized the declaration of protected area status, wrote the management plans, and organized ranger teams and protection for both natural biota as well as traditional human livelihoods in all three of these areas.
2.  Founder of the CARE/WWF Alliance, a formal worldwide alliance between two developmental giants to work at the resource health/human well-being nexus.
3.  Launched a process that led to the establishment of the national BIOFUND to finance Mozambique's Conservation areas.
4.  Won "World's Best Destination" from the BBC in 2006 for our eco- lodge Quilalea Marine Sanctuary, together with two partners.
5.  Developed climate buffering strategies for marine and terrestrial areas, as well as community livelihoods.

Ruth Mkhwanazi-Bechtel is the program director of the Community Care and Support Program, a program of Vanderbilt University's Friends in Global Health in Mozambique. As program director, Ruth oversees development and implementation of community outreach efforts to overcome sociological barriers and increase community members' access to health services for HIV & AIDS prevention and care. She has more than 20 years experience working in Mozambique and Swaziland on health care and health education, community development, community management of natural resources, food and livelihoods security, and women's entrepreneurship. She received a master's of science degree in Managing Rural Care form the University of London, Imperial College in 2005.
Video from the Lecture

 Radio Interview for WDCV Radio, Dickinson College